Collaborative Insurance Group Management (CIGM)
This page will describe how the GoRev Collaborative Insurance Group Management system functions. This system integrates all GoRev servers nationwide and facilitates the storage and dynamic sharing of insurance group information. If the CIGM module already has information related to a group you are registering a patient with it will automatically fill in all fields for you.
---
How the module works
This module is a nationwide moderated system where every GoRev user nationwide (thousands) work together to create a robust set of insurance group information. Each user saves directly to the national CIGM repository via their personal GoRev server. A set of moderators reviews entries and publishes nationally once approved.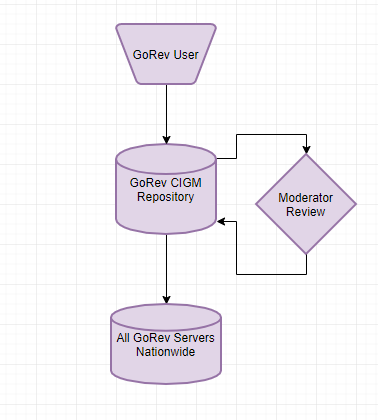 Ways to Enter Info to CIGM
There are two ways to enter information into CIGM.
New Visit Creation
During the New Visit creation process on the Patient Payer Information screen as soon as you enter in a group number the "Add Insurance Group Information" link appears as shown below. If you already see Group specific information populated this means this specific group already has information in CIGM. You should still double check the accuracy of this information as this is a nationwide collection of users input and GoRev cannot be held responsible for any inaccuracies.
Click the below link and go to Entering information into CIGM
From Patient Overview
The CIGM link also exists within Patient Overview as shown below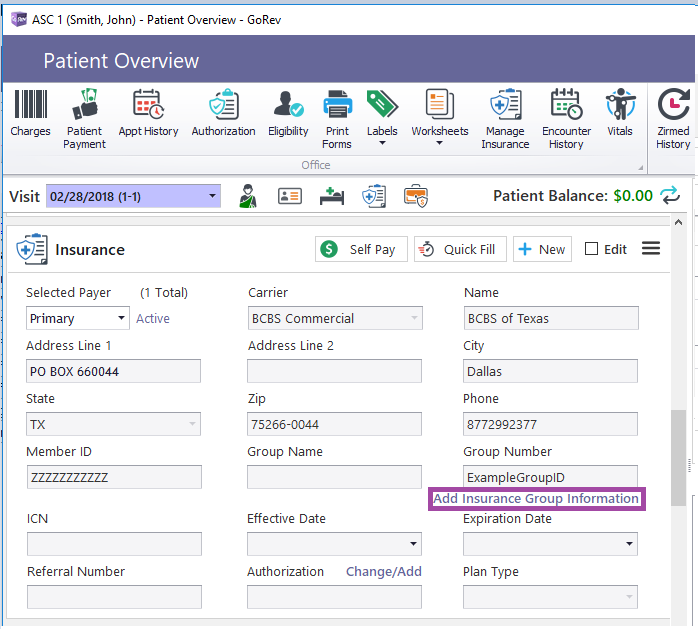 From Workflow
The Insurance Group tab will appear for any patient with insurance assigned to the visit.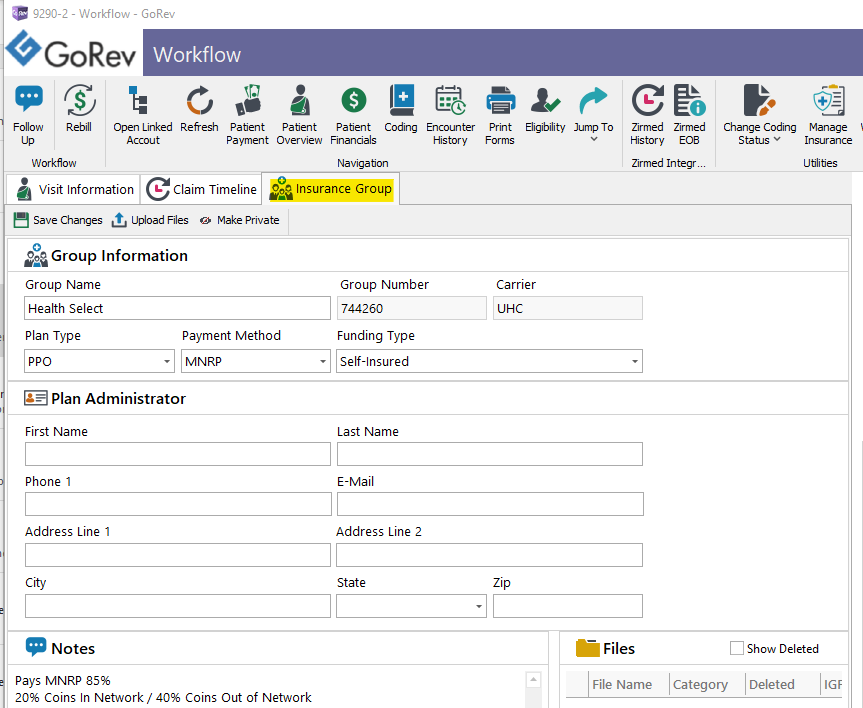 Entering information into CIGM
The system allows you to enter all of the below information for each group. Once you have entered information click the Save Changes button. This will permanently save the group info to your personal GoRev server and submit the record to the CIGM repository for moderator review.
The system allows you to save all of the below. One important note, if you find an option is missing from one of the drop downs you would like to see added please enter this into the Notes section. Our moderators will review your notes and add the options for you.
Current Plan Type Options are (PPO, POS, Traditional, HMO, Managed Medicare, Managed Medicaid, Exchange Plan) Current Payment Methods are (MNRP, MRC, MRC2, UCR, Fair Health, Percent of Charges, Other Rate) Current Funding types are (Fully Insured, Self Insured, Partially Insured)
Plan Administrator: This section lets you save information regarding who you can contact at the employer. This is useful for Self-Funded plans where you need to contact the employer regarding improperly processed claims.

Notes: This section is free text and allows you to save any other pertinent information where no specific field exists to store it.

Attached Documents: Click the Upload files button and attach any files related to the insurance group. Please note these are shared nationally, do not upload any HIPAA sensitive data. Our moderators will deny your submission if you do. Most commonly uploaded item is the groups Summary Plan Document (SPD).
---
GoRev Support Team
If you have any questions, concerns, or problems regarding this GoRev Tutorial, please contact the GoRev Support Team by submitting an IT Support Ticket, by phone at 1-(317)-794-3900, and/or by email at ask@gorev.com.
Note: If possible, always submit an IT Support Ticket detailing any problem that you are experiencing within GoRev. This will give GoRev Support Agents access to additional information that will help expedite the resolution of your issue. If you are unsure how to submit an IT Support Ticket in GoRev, please see the GoRev IT Support Ticket Creation Tutorial for assistance.
---