Creating a PowerSchool Parent Portal Account
PowerSchool offers a Parent Portal where parents can have access to each of their children's' information in one account. This is also where we will place forms like the Appropriate Use Agreement to complete and return to the school via the internet.
*If you have provided the school with a contact email address, you should receive an email shortly after the start of the school year that will contain an Access ID and Access Password for each child that you may need access to. You will need this information, when setting up your PowerSchool account, to add each child that attends an Evergreen Catholic School to your profile.
*Alternatively, if you have not yet provided the school with a contact email address, you will need to contact your child(ren)'s school(s) to request the Access ID and Access Password.
*PLEASE NOTE: Your PowerSchool Parent Portal account MUST be created using a Web Browser. It cannot be created using the PowerSchool app.
To get to the PowerSchool Parent Portal navigate to the Quicklinks section of your child's school website:
STEP 1: CREATING YOUR ACCOUNT
Click on the Create Account tab.

Click on:

Enter your First Name, Last Name and your Email Address (this should be the same email address that you provided to the school).

Enter a Desired Username. For simplicity, it is recommended that you use your email address your username.
*IMPORTANT: Ensure that you don't inadvertently add an extra space to the end of your username (this sometimes happens when using a mobile device).

Enter and Re‐enter a Password (password must meet the minimum requirements listed on the entry page).
STEP 2: LINK YOUR CHILD(REN) TO YOUR ACCOUNT

Enter the Access ID, Access Password (that you received from the school) and Relationship for each child you wish to add to your Parent Account.


Scroll to the bottom of the page and press:
(NOTE: It is okay if you don't have an Access ID and Access Password for all children at this time. You will have the ability to add additional children from within the PowerSchool Parent Portal at a later time)
You will receive a confirmation message that your account has been created. Check your email for a link to verify your account. You will then be able to login to the PowerSchool Parent portal.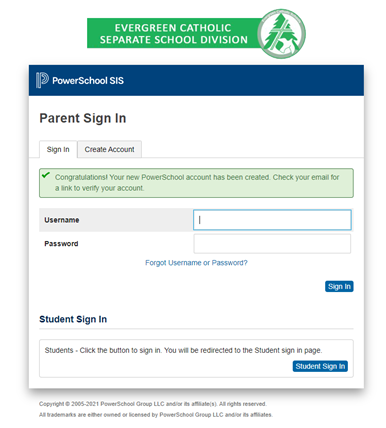 STEP 3: LINKING ADDITIONAL CHILD(REN) AT A LATER TIME
If you have other children in other Evergreen Catholic Schools you may receive an Access ID and Access Password after your original account setup.
Go to the Quicklinks section of any Evergreen Catholic School website and click PowerSchool.

Login using the Username and Password you created.

Choose Account Preferences from the left side menu.


Click on the Students tab and press Add.


Enter the required information click OK.

Congratulations! You can now setup the PowerSchool App on your mobile device using the District Code (DKWW) which is listed at the bottom of the left side menu of the PowerSchool Parent Portal (also shown in the image above).