Navigating Profile Options
Welcome to the Navigating Profile Options Tutorial. In this tutorial, we will focus on the process of navigating the Profile Options module in GoRev.
---
1 : Navigating to Your GoRev Profile
In order to navigate to your GoRev Profile, first, click on your GoRev User Name present in the top right corner of your GoRev Homepage.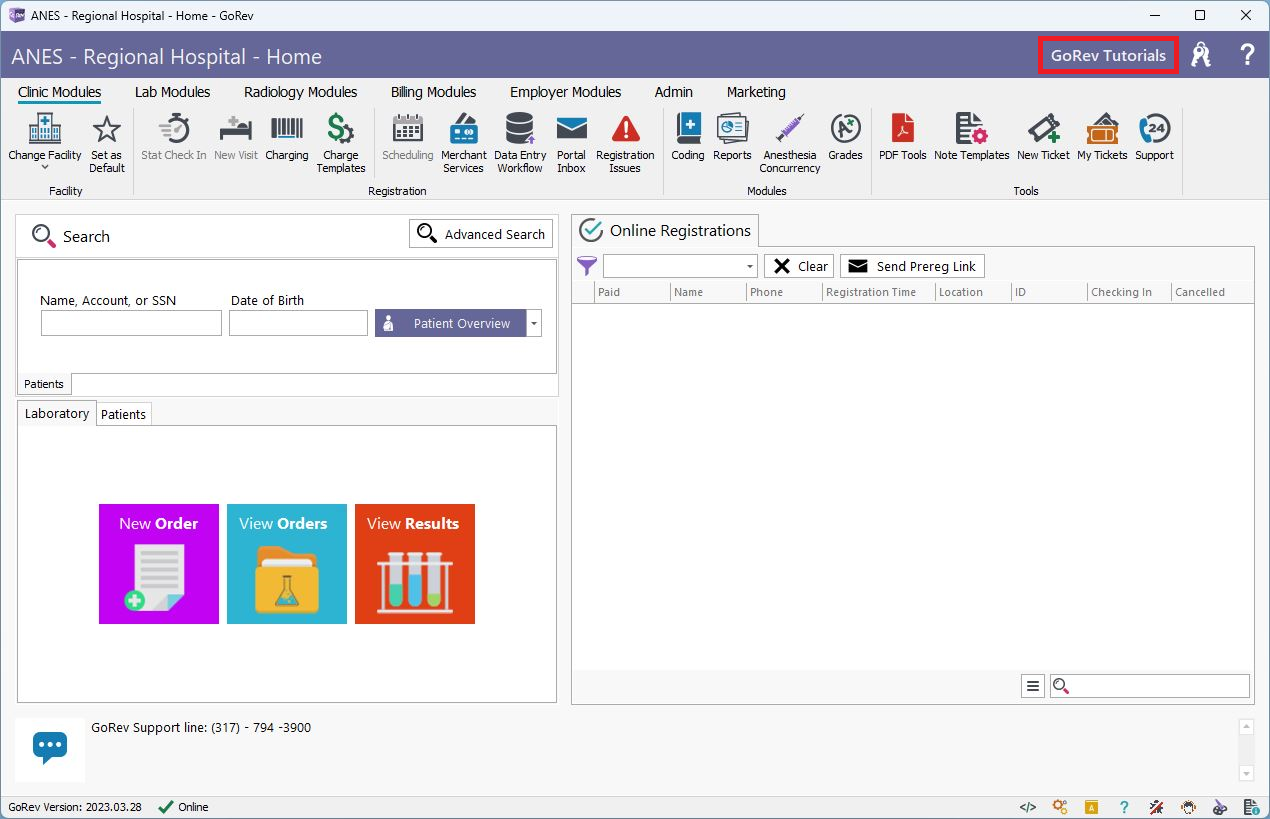 Once the drop-down menu is visible, select the "Profile Options" button from the list.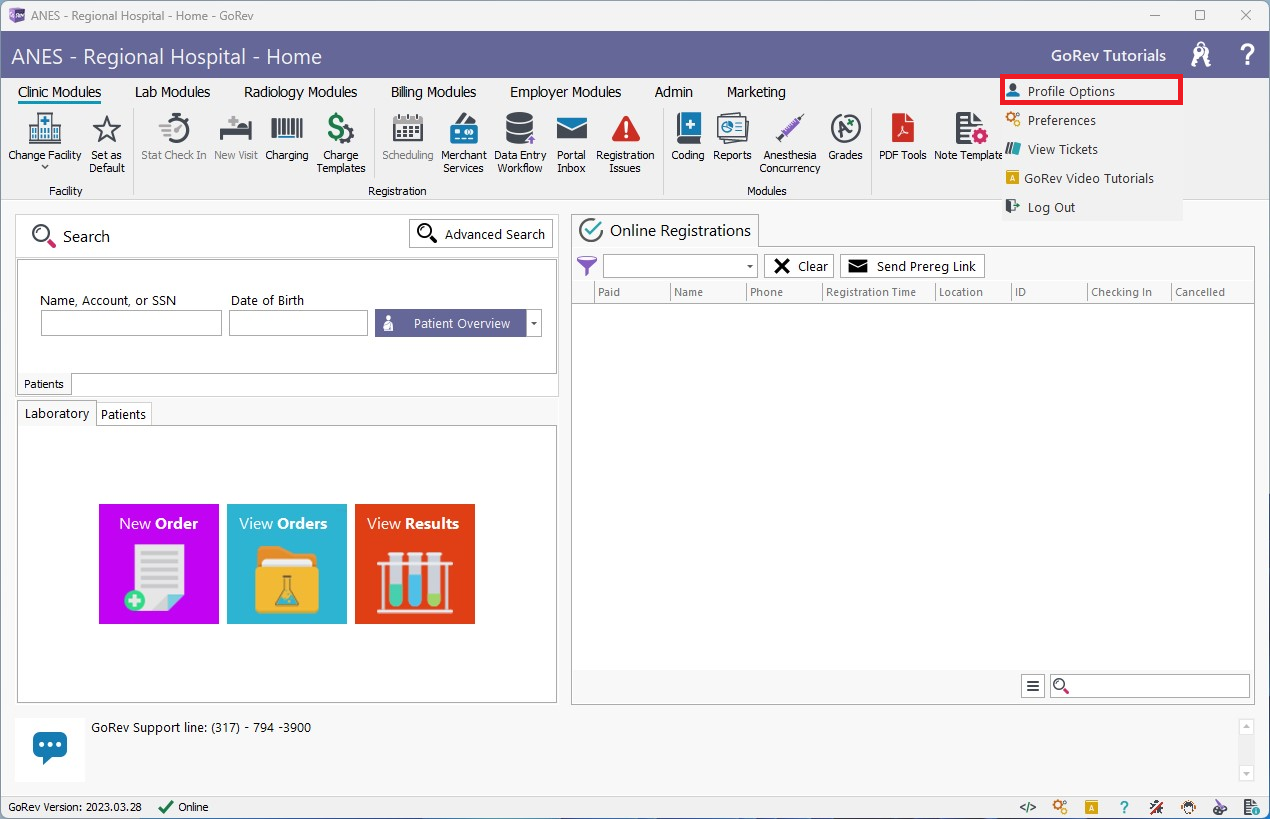 2 : Entering Your General Information
At this point, the GoRev Profile window will appear on your device. In this window, you will have the ability to enter or update your GoRev Profile Information. To begin, enter your First Name and Last Name into the corresponding fields in the General Information area of this window.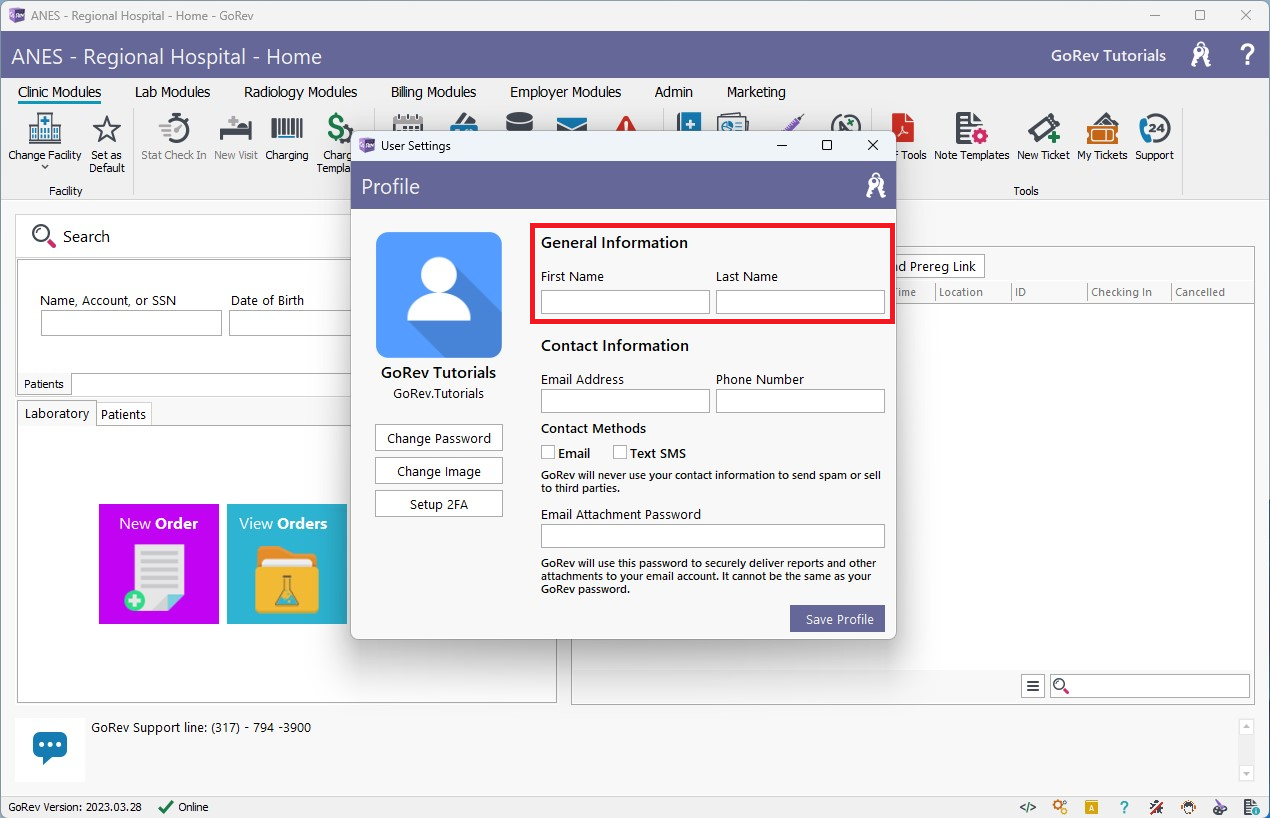 3 : Entering Your Contact Information
Next, enter your "Email Address" and "Phone Number" into the "Contact Information" fields on your screen.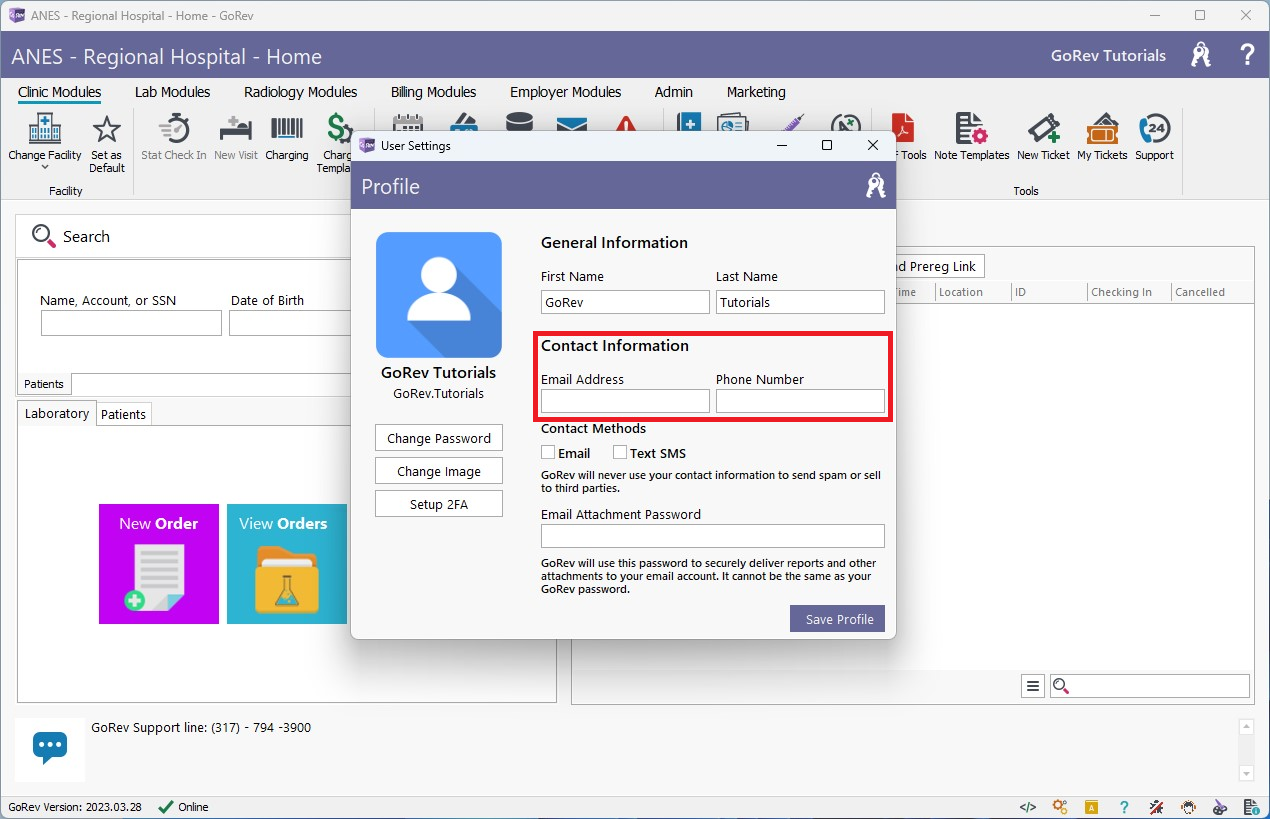 4 : Defining Your Preferred Contact Method
Now, define your Preferred Contact Method(s) by clicking on the corresponding option(s) present in the Preferred Contact Method section of the Profile Options window.
Note: your Preferred Contact Method(s) is the way that GoRev will contact you if you forget your GoRev Password and need to utilize GoRev's "Forgot Password" feature on the GoRev Login screen.
5 : Setting Your Email Attachment Password
Next, please enter an "Email Attachment Password" into the corresponding field provided. This password cannot be the same as your GoRev password.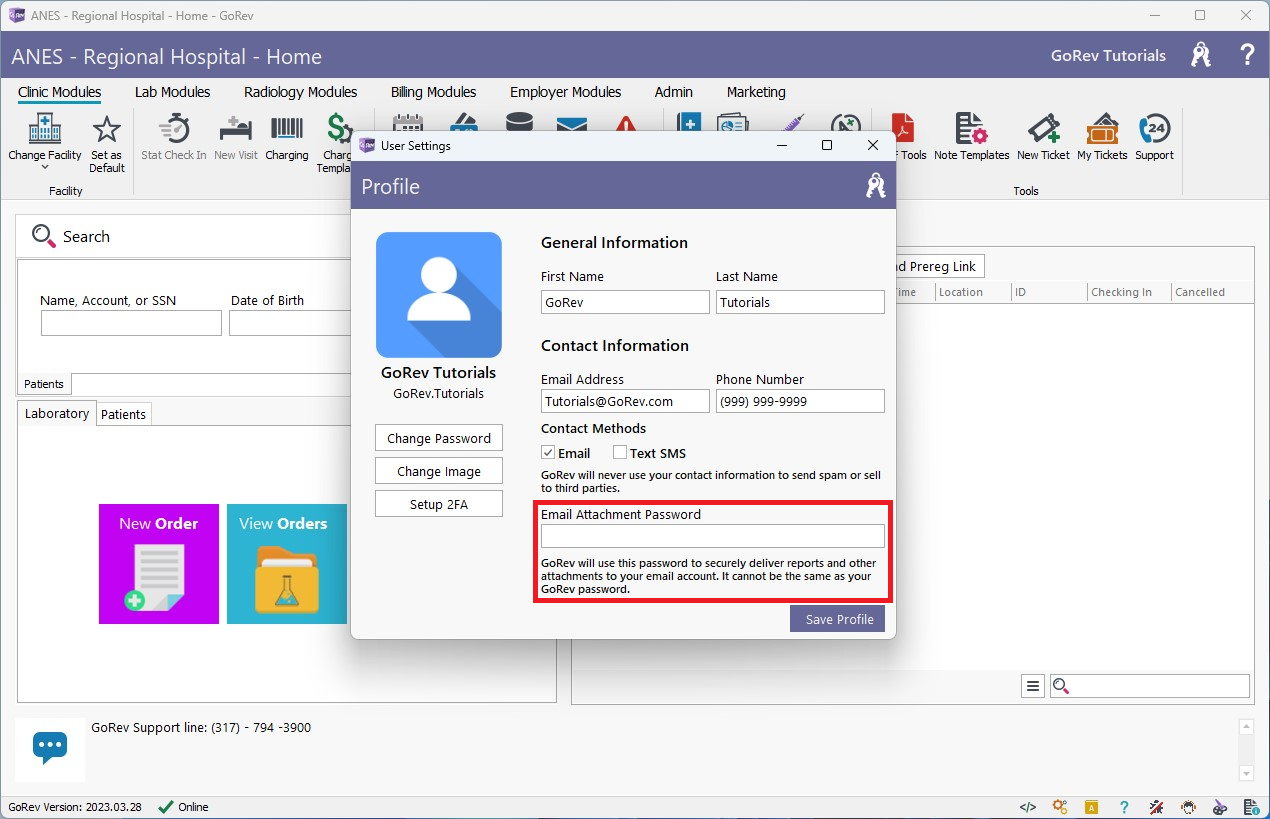 Note: GoRev will use this password to securely deliver Reports and other attachments to the Email Address provided above.
6 : Saving Your GoRev Profile Information
Now, click on the "Save Profile" button in the bottom right corner of this window.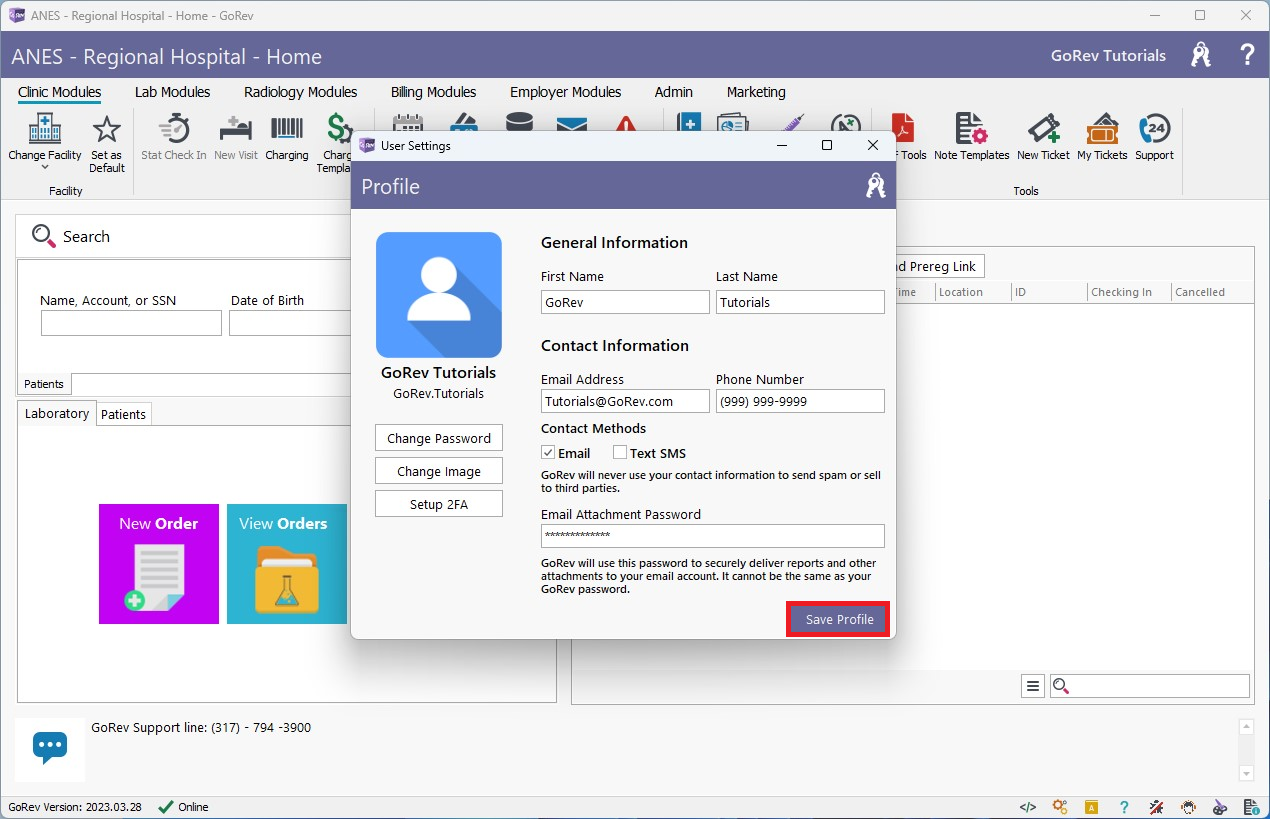 7 : Uploading a GoRev Profile Image
Next, to upload a profile picture to GoRev, click on the "Change Image" button on your screen and upload an image from your device.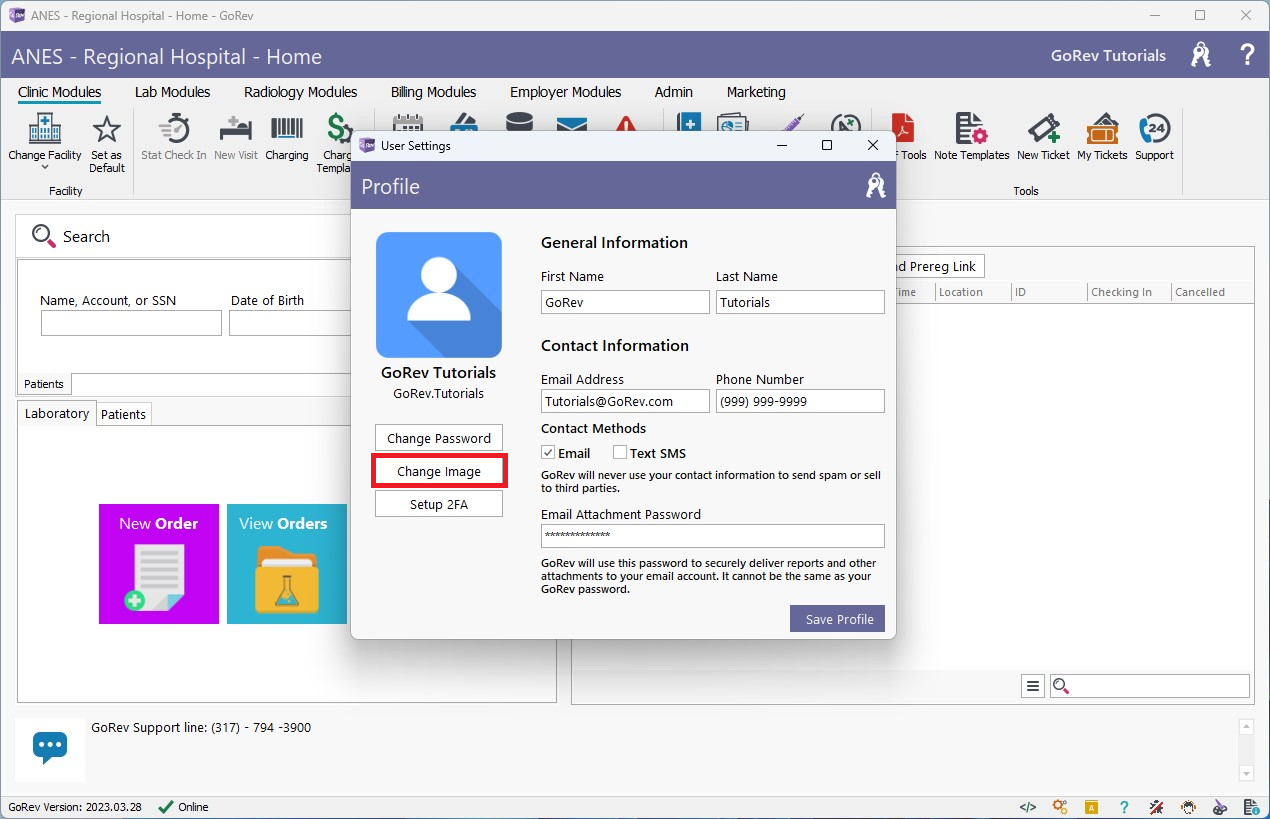 8 : Navigating to the Change Password Window
Now, in order to change your GoRev password, begin by clicking on the "Change Password" button on your screen.
9 : Changing Your GoRev Password
After the Change Password window becomes visible, please enter your current GoRev password into the "Current" field in this window.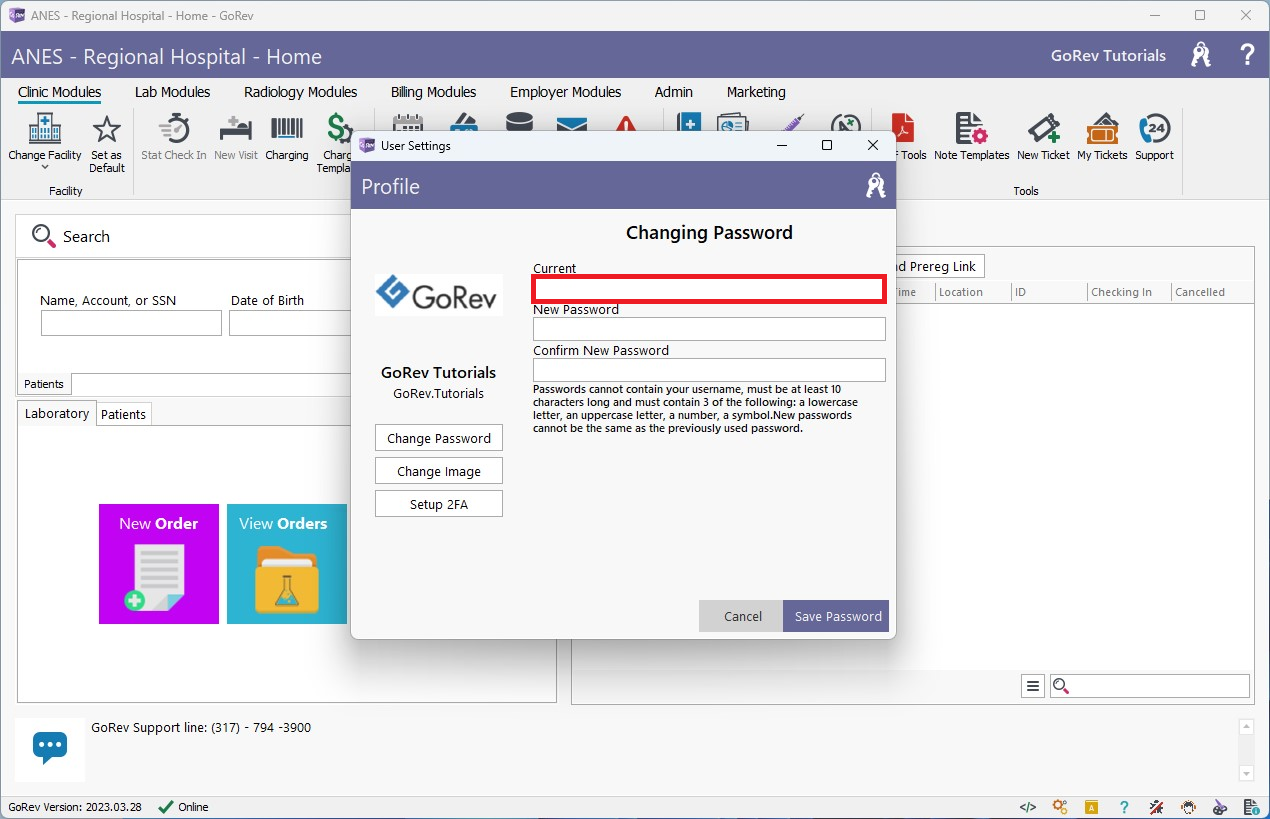 Next, enter your new GoRev password into both the "New Password" and "Confirm New Password" fields on your screen.
Note: Your GoRev password must be at least 10 characters long and must include at least one capital letter, one number, and one special character such as an exclamation point or a period. (ex. !#@$).
Lastly, to save your new GoRev password, click on the "Save Password" button in this window.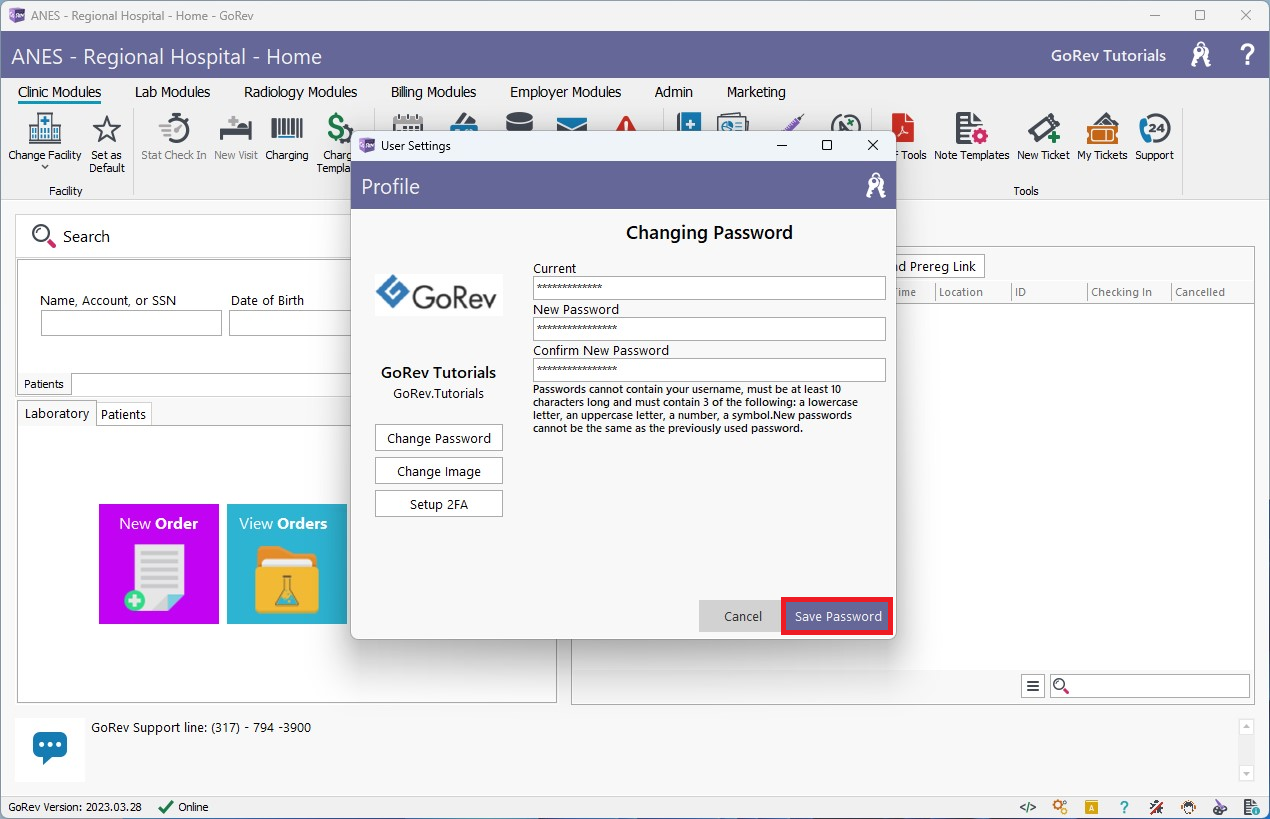 10 : Setting Up Two Factor Authentication
You can set up two factor authentication for your account by clicking on the "Setup 2FA" button.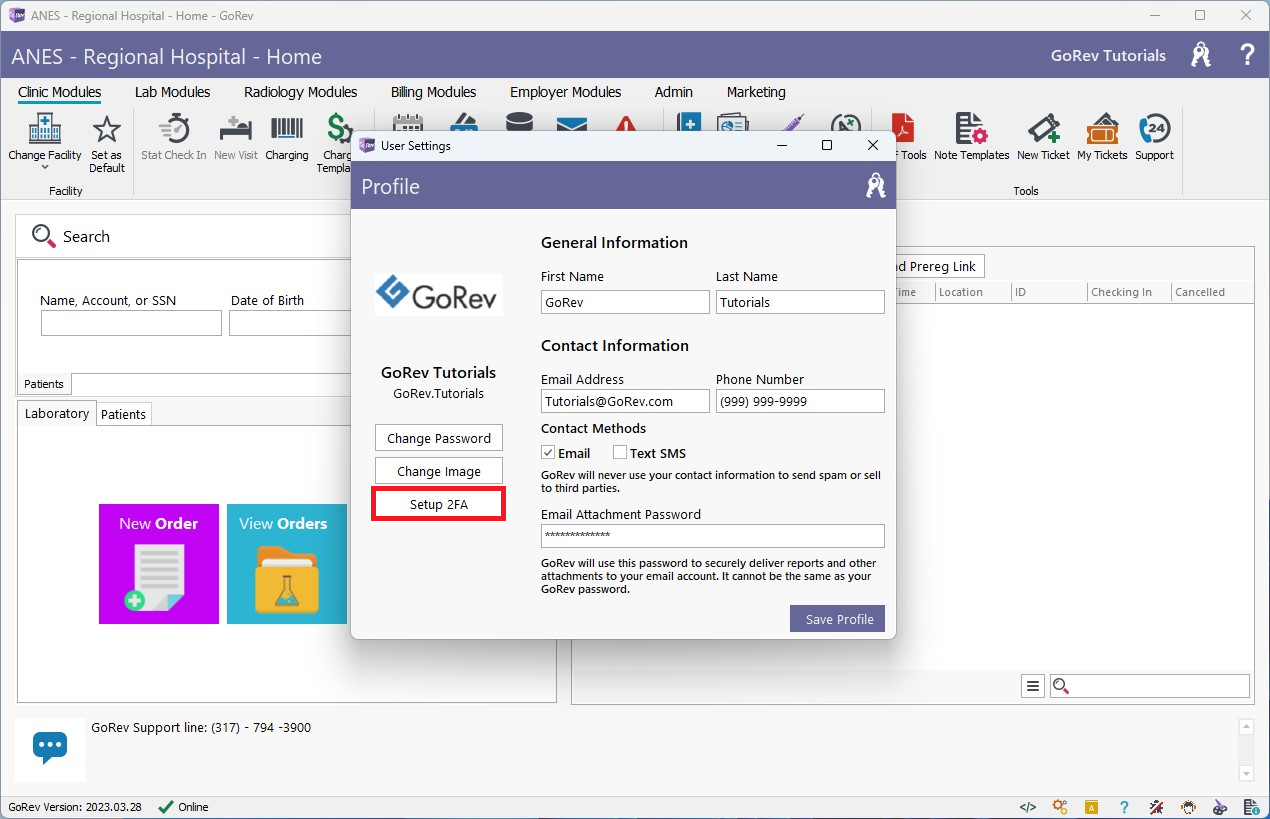 From the Setup Authenticator screen you will need to scan the displayed QR code into your preferred authenticator app (ex: Google Authenticator), then enter your Current Password and the Authenticator Token number provided by your authenticator app.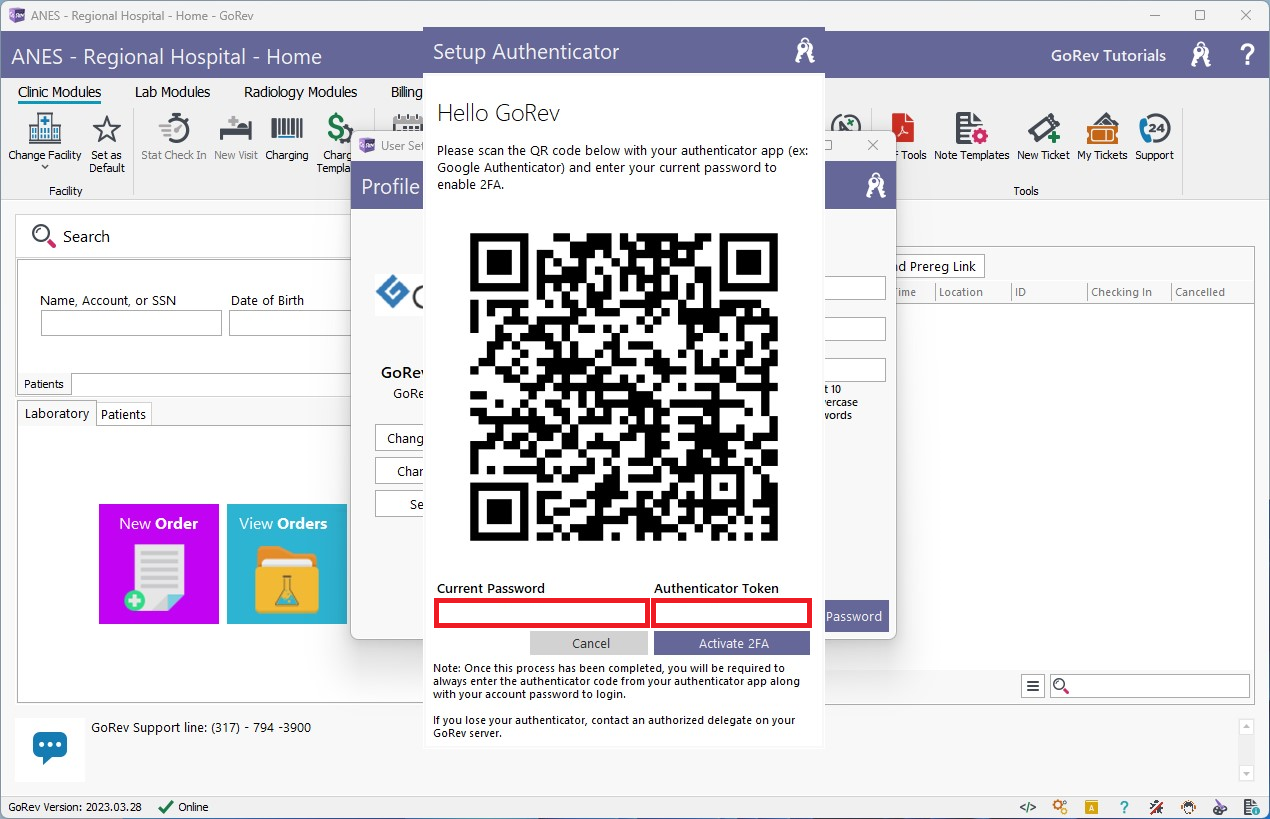 Lastly to complete the setup, click on the "Activate 2FA" button.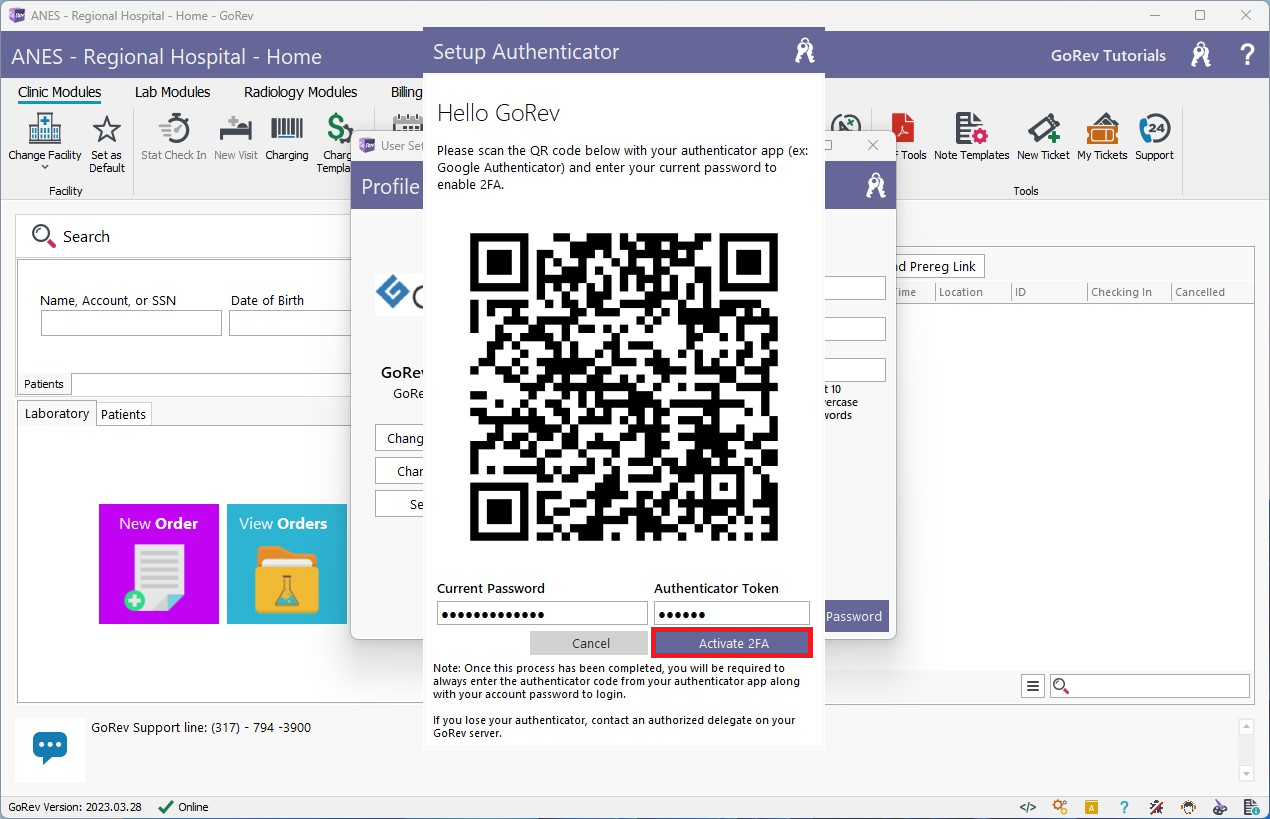 The next time you log into GoRev, along with your Username and Password, you will also need to enter the authenticator code from your app into the Authenticator Token box.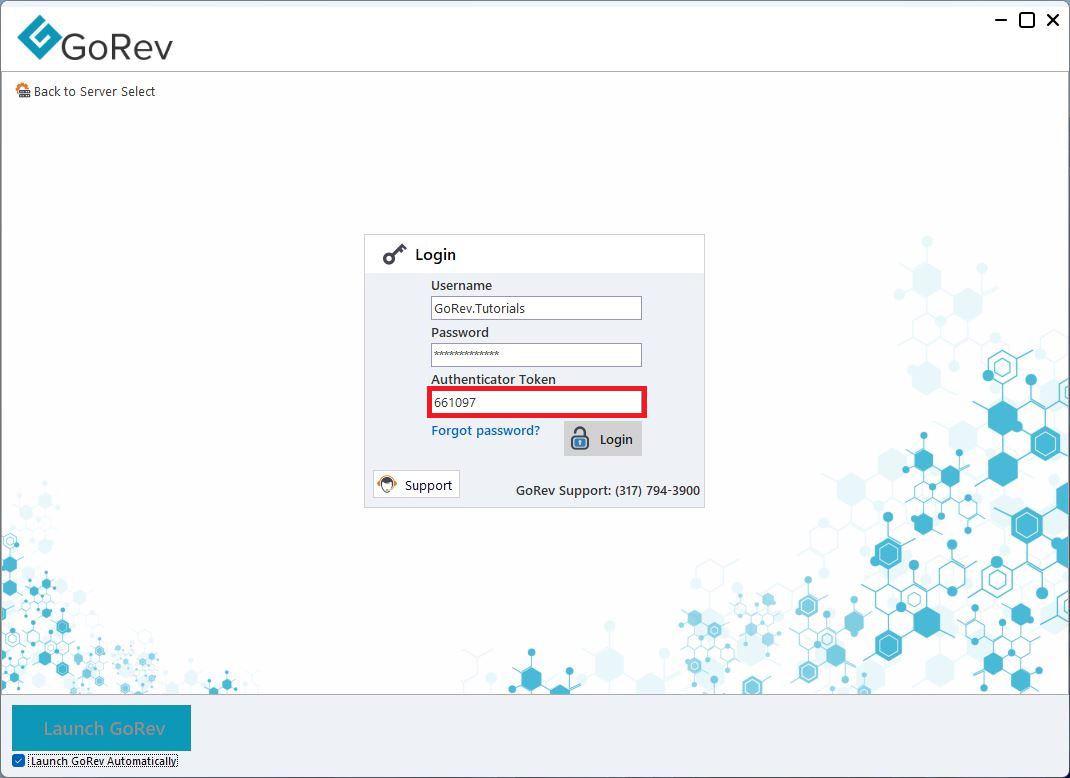 ---
Additional Resources
GoRev Support Team
If you have any additional questions or concerns regarding this tutorial, please contact the GoRev Support Team by phone at (317) 794-3900 or by email at ask@gorev.com
Note: Always submit an IT Support Ticket detailing the problem that you are experiencing with this portion of GoRev, if possible, as this will give GoRev Support Agents access to information that will help expedite the resolution of your issue. If you are unsure how to submit an IT Support Ticket in GoRev, please see the IT Support Ticket Creation tutorial for assistance.
---