Patient Portal User Manual
Welcome to the GoRev Patient Portal User Tutorial. In the instance that you received a text from our short code: 36753, this means your healthcare provider is attempting to contact you. This could be to provide you with your COVID-19 test results, other medical results, or to simply reach out and discuss your existing treatment and status. This guide will walk you through the process involved with navigating through our portal to access your lab results, communicate with your provider, and view/pay any bills that may be due to your healthcare provider.
Once you have registered for your patient portal, the Portal can be accessed by visiting https://portal.gorev.com. Your provider may issue a direct result URL or QR code in which case you may be able to access your results without having to setup a portal account.
---
Directly Accessing your Test Results
If your provider has configured direct result access you will receive an email and/or text that looks like the below.
Clicking on Retrieve Results will take you directly to your results unique laboratory result retrieval and validation page. See further below for screenshots on this page and process.
Clicking Access Patient Portal will allow you to configure a full patient portal account from which you can access all of your results both current and historical.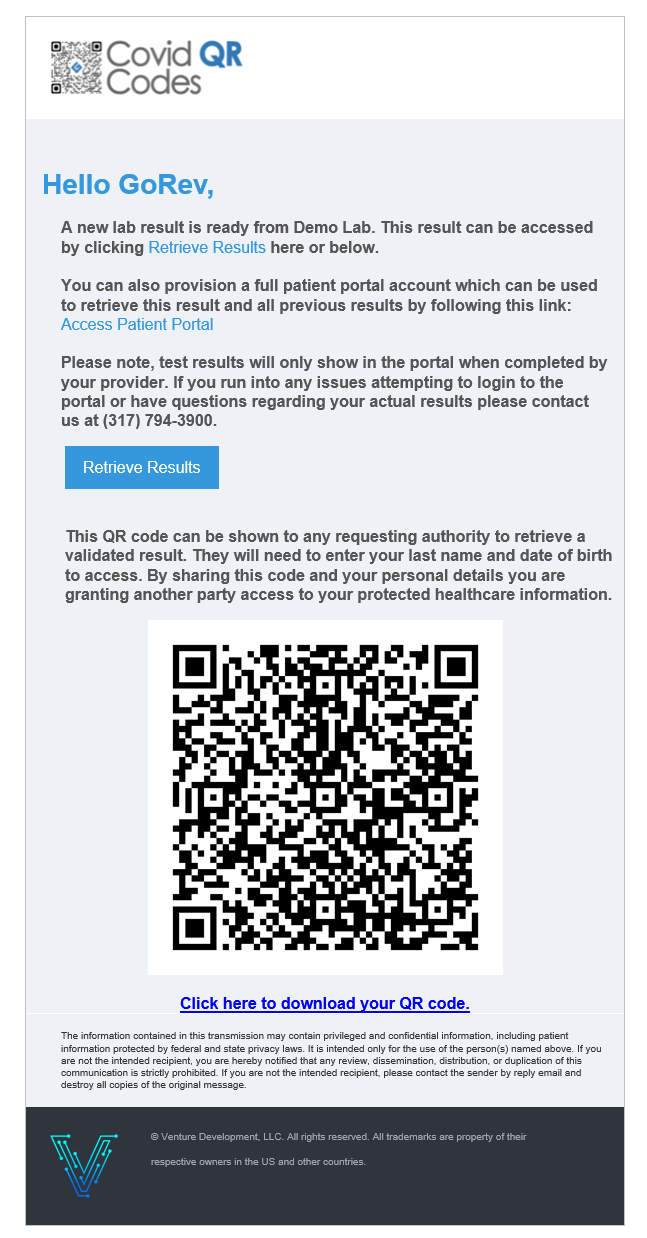 Text messaging has both the direct result access and patient portal access links as well.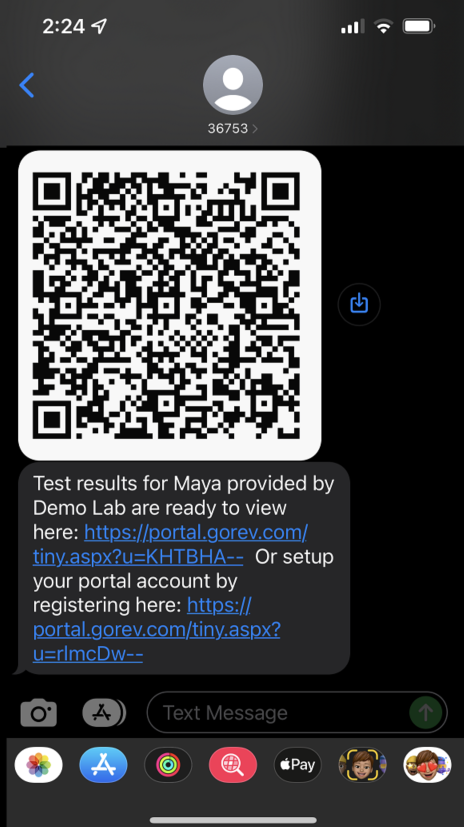 The Laboratory Result Retrieval and Validation Page
Clicking the link to directly access your results in either the email or text will take you to a validation page as shown below where you must validate your last name and date of birth to view your results. Note, if you receive an error message stating Failed to Validate Patient Data you will need to contact your healthcare provider at the number provided. The GoRev team does not have access to update your patient data.
Clicking View Validated result will display your actual laboratory test results at which point you can download a PDF to maintain for your records.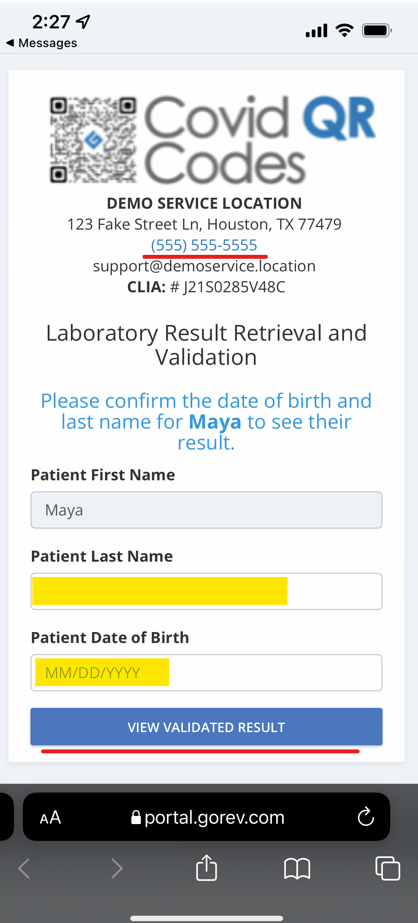 Registering for a Portal account
In order to register for the GoRev Patient Portal, your healthcare provider will be required to invite you to register for a patient account. You will receive an invite by text message or by an email invitation. Once received, the invite will walk you through the patient information verification process and allow you to configure your login credentials.
Note: The GoRev Patient Portal is by invitation only. You will be unable to create an account without a registration invite.
Clicking the registration URL either in the email or SMS text will take you to a registration landing page as shown below. You must validate your last name and date of birth, specify an email address to use as your username, set a password and accept the terms and conditions and privacy policy.
If you already have a portal account you can link your new provider invitation by clicking the Click here to Login link red-underlined as shown below.
If you experience any issues validating you must contact your healthcare provider as it is likely your last name and/or date of birth may have been registered incorrectly. The GoRev team is unable to update your patient information.

Viewing Your Results within the portal
This page will display any clinical results your provider has issued to you. You can click "View" to view the result directly in your web browser, or you can download the PDF of your results directly to your device. You can also message your provider regarding this specific result by clicking the "Message" button. Responses from your provider will be shown on the messages page.
Note: In order to view a PDF, your device will require a PDF viewer to be installed.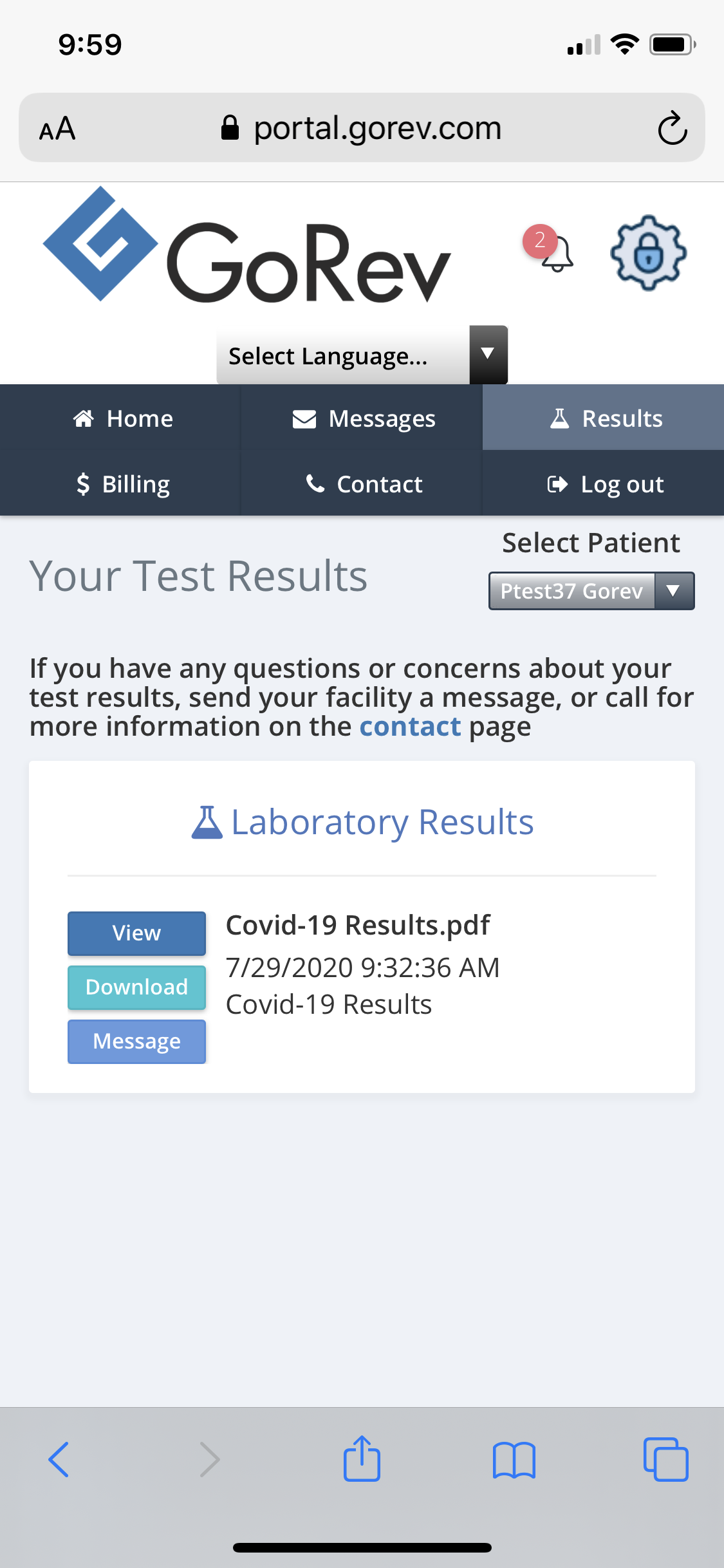 Navigating the Portal Home Page
Upon logging in for the first time, you will be presented with the patient portal home page as shown below.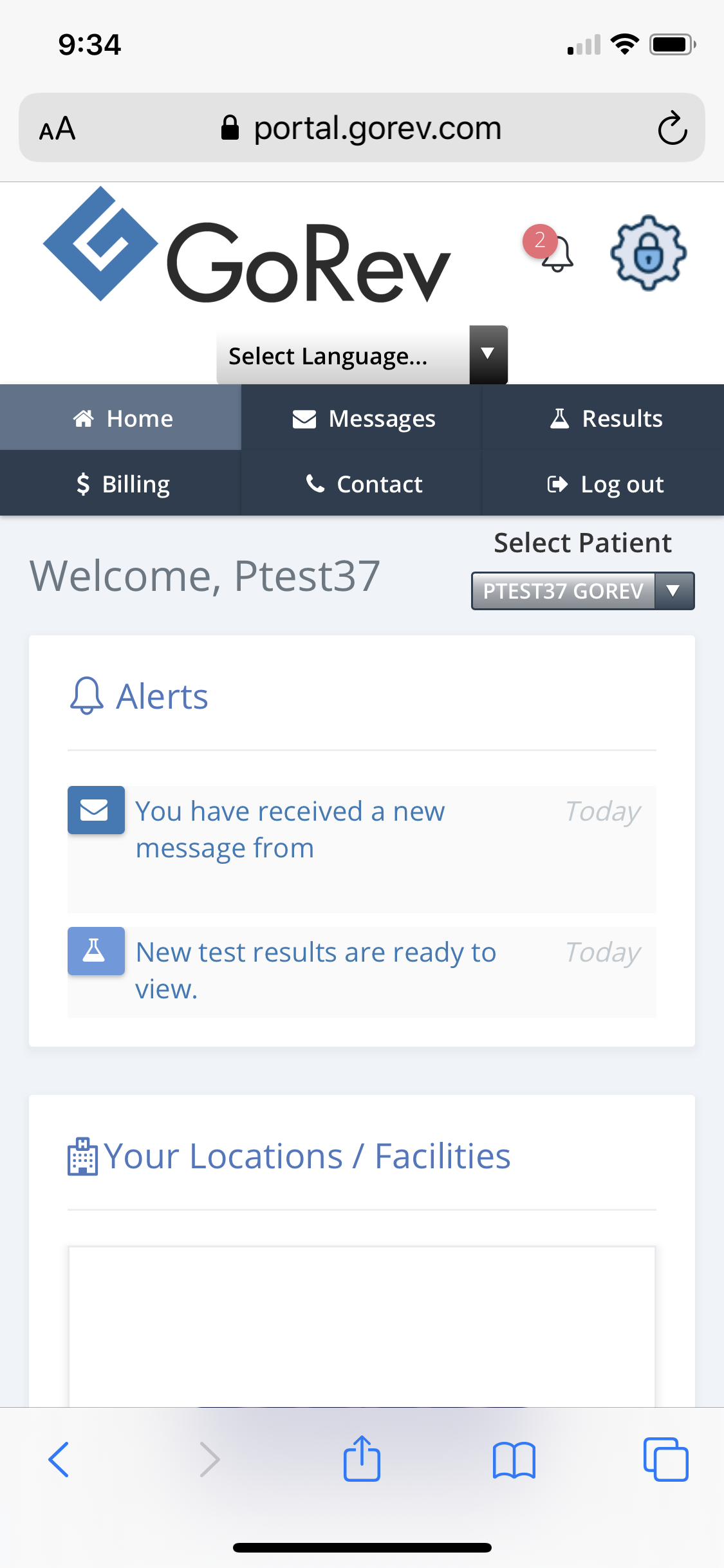 The Patient Portal home screen contains a variety of functions. Starting from the top down, you can utilize the various navigational and system buttons as follows:
Select Language The patient portal will translate the entire system into the language you specify, which includes any messages you receive from your provider.

Messages This area will display your message inbox, which contains any messages your provider has sent you. You will also have the ability to respond to messages from this area.

Results The Results area will display any clinical results your provider has issued to you.

Billing This area will display any patient invoices you may have due for services rendered by your provider.

Contact The contact area will show you the main contact numbers for any providers you have visited.

Select Patient If you have registered as a guarantor for another patient, you will be able to switch to the other patient's portal by selecting their name within this drop down menu.

Alerts You will see various alerts on the patient portal home page that have been issued by your provider. You can click the alert and it will take you to the relevant page.

Your Locations On the patient portal home page, you will see a list of locations you have visited. From here, you will be able to pre-register for additional services by clicking on the registration button within the providers logo.
Note: It is your responsibility to ensure any translation of your providers messages is accurate. If you have any questions, please contact your provider.
Sending and Receiving Messages
The messages page will show you all messages you have received from your healthcare provider. You will have the ability to click into any message and click Reply. You can, also, exchange files with your provider as needed by dragging them into the specified area.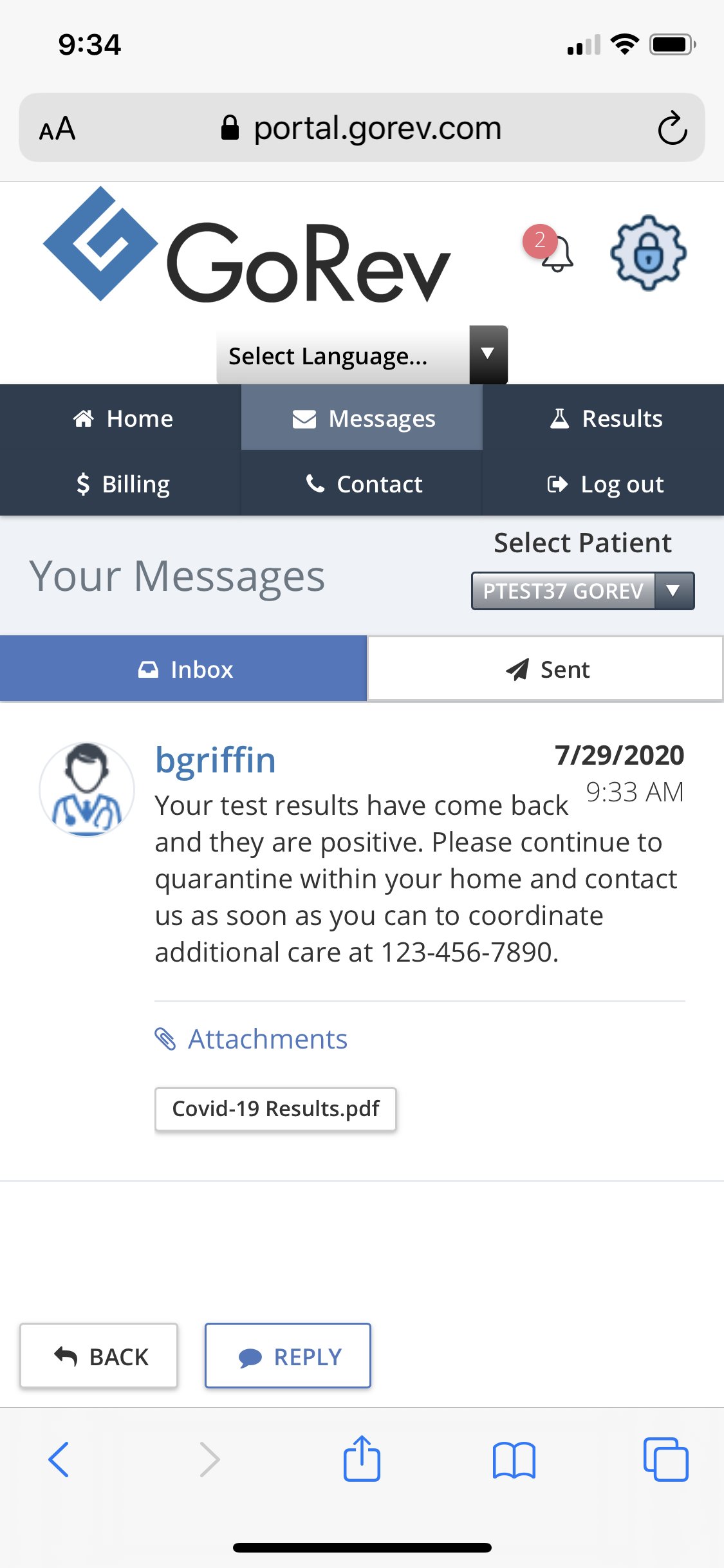 In order to reply, please utilize the below functions to send a reply and click "Send".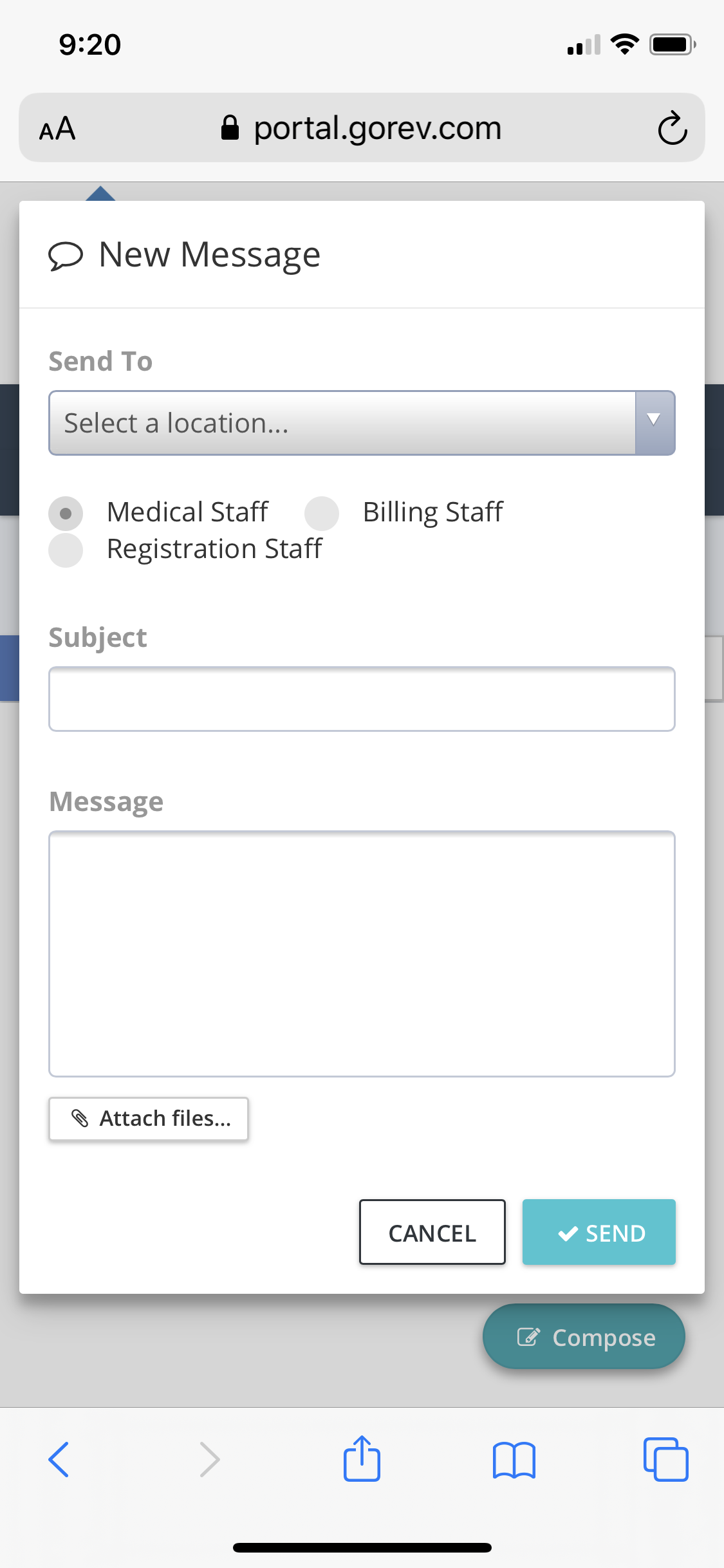 Viewing and Paying Billing Statements
The Billing page will let you review any statements you have received from your provider. Simply click "View" and you will see the statement as shown below. You can download a copy of your statement or pay directly by clicking on the "pay now" button.
First, you will see a list of all your statements as shown here: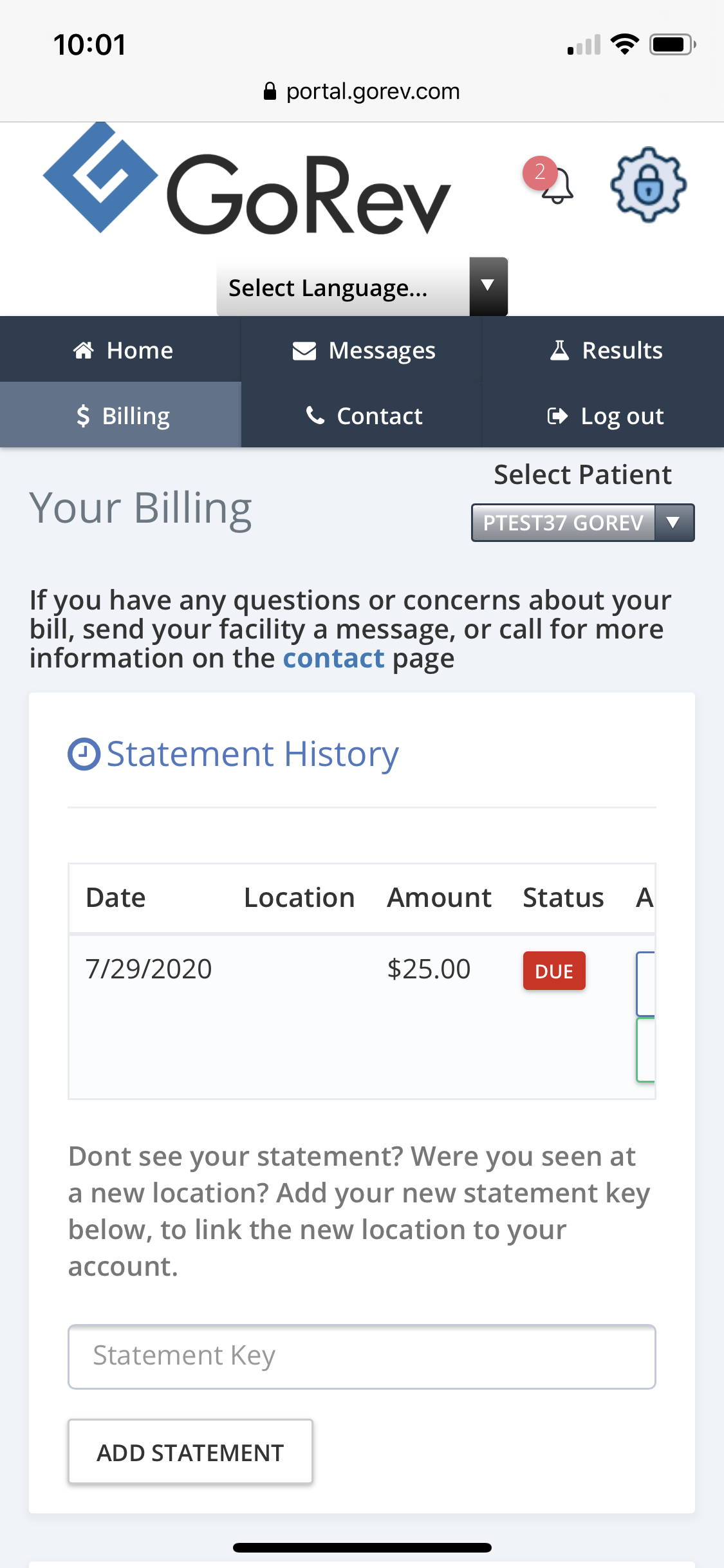 When you view a statement, you will see: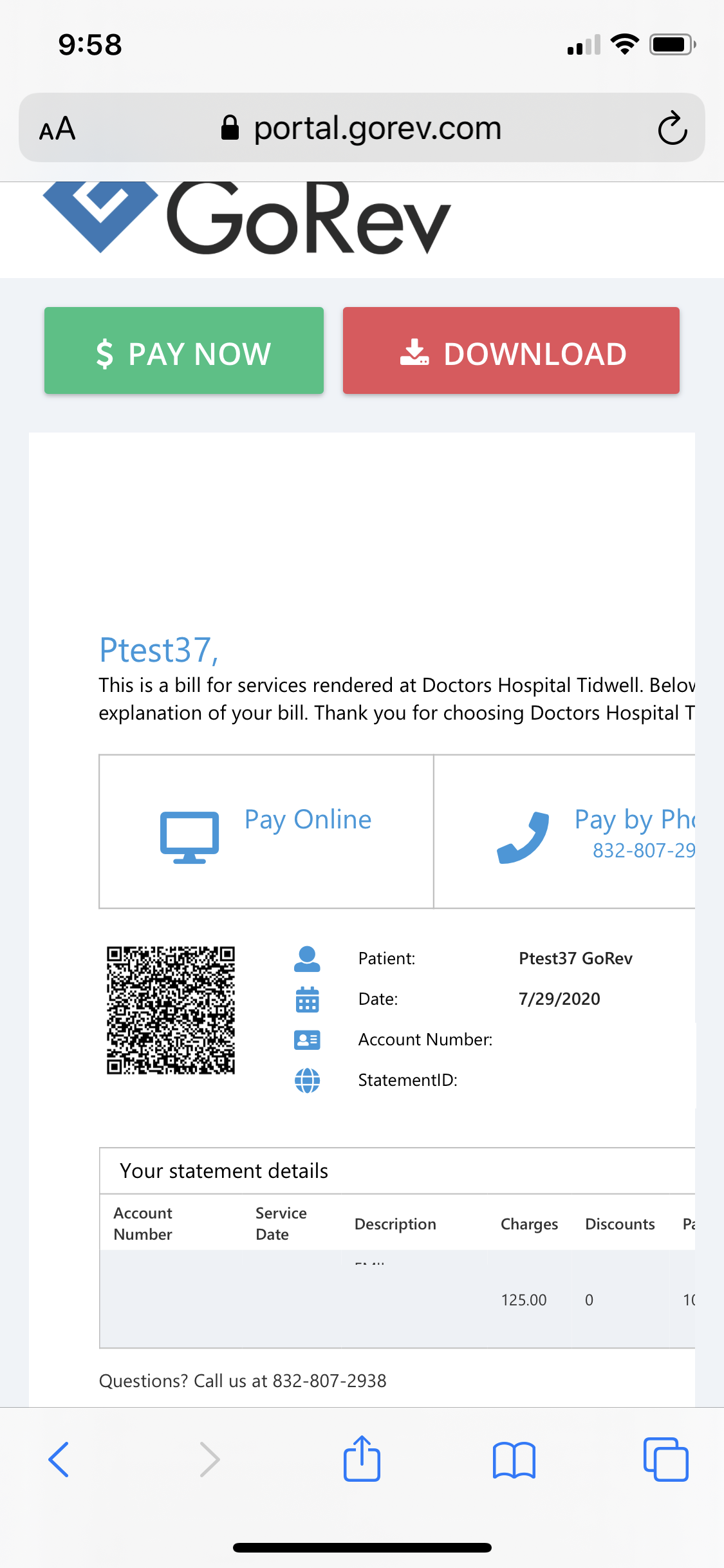 Changing Your Portal Settings
The "Settings" tab will allow patients to update preferences regarding the portal such as preferred communication method (text/email) and reset their password. You can access your settings by clicking on the gear icon in the top right corner of this page.
Note: If you uncheck both text and email communications you will no longer receive notices regarding new results or messages within your portal.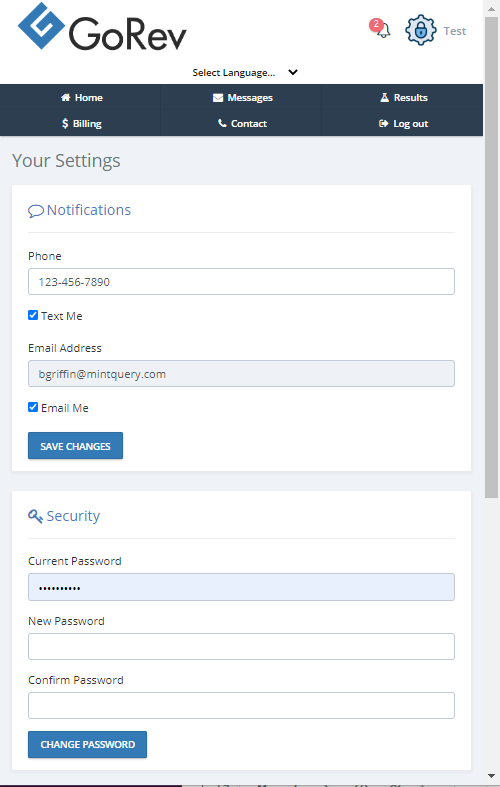 Resetting Your Password
In order to begin resetting your password, please navigate to https://portal.gorev.com. Then, click on the "Forgot Password" button present under the right side of the sign in button.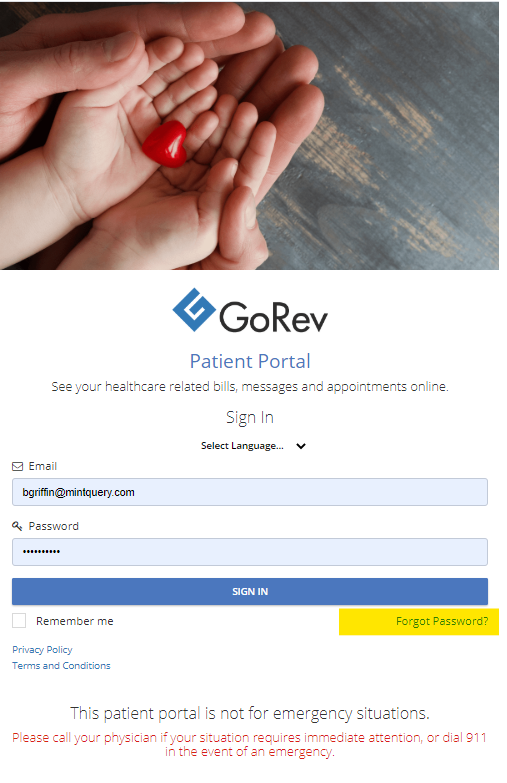 Then, input the email you previously entered during the registration process as your portal username.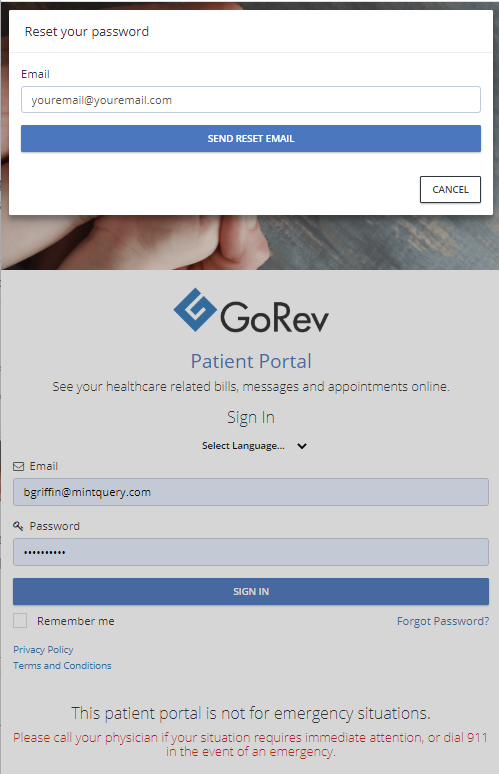 At this point, a confirmation page will appear on your screen.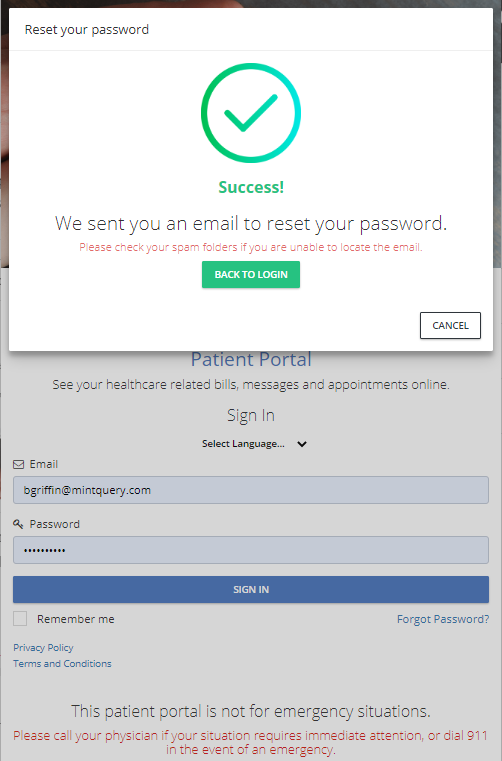 You will receive a password reset email within 1 to 10 minutes depending on security settings. If your email address has not been registered in our system, you will not receive an email. Once you receive the email, click on the "Reset Password" button. You will be directed to a webpage as shown below. Next, enter your new password, confirm the new password, and click set password to complete the password reset process.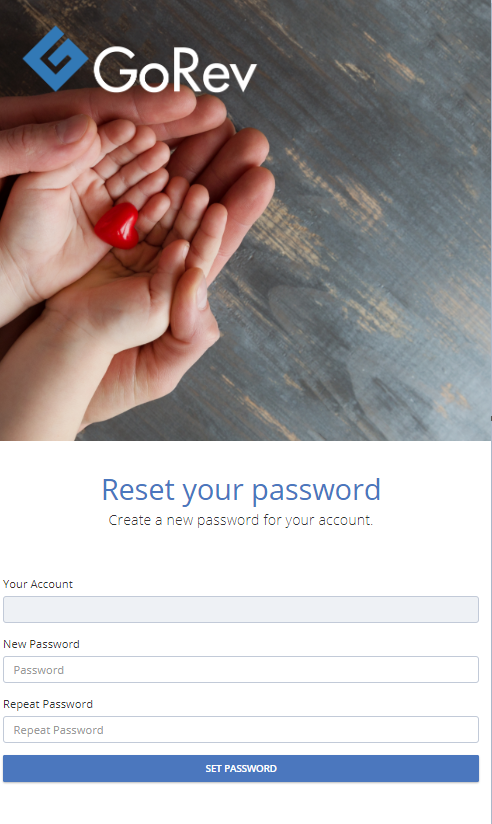 ---
GOREV SUPPORT TEAM
If you have any additional questions or concerns regarding this tutorial, please contact the GoRev Support Team by phone at (317) 794-3900 or by email at ask@gorev.com​
Note: Always submit an IT Support Ticket detailing the problem that you are experiencing with this portion of GoRev, if possible, as this will give GoRev Support Agents access to information that will help expedite the resolution of your issue. If you are unsure how to submit an IT Support Ticket in GoRev, please see the IT Support Ticket Creation tutorial for assistance.
---