Template: Status Updates in MS Teams
What's a Teams status and why should I care?
A Teams status is an indicator of whether you're open to chat, and/or when people might expect you to be. For instance, if you're open and free to chat, you don't have to set a status. Because MS Teams integrates directly with your calendar and is its own video chat system, it will automatically update when you're in meetings or in calls.
When manually setting a status, feel free to use any of the standard options, or create your own message. It's up to you how much information to include in your status message, but if you want to, you can include alternate ways of getting in contact, or a list of reasons it's OK to interrupt you.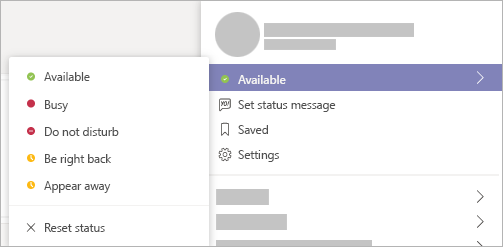 What each of these options mean:
🟢Available is when you're active in Teams and don't have anything in your calendar (no meetings or calls, for example). Note that Teams will automatically set your status from Available to Away when you lock your computer or when it enters idle or sleep mode. On mobile, this will happen when the Teams app is in the background.

🔴Busy is when you want to focus on something, and you do want notifications to pop up. If you're in a meeting or call, Teams will automatically change your status to In a meeting or In a call (Busy) when not set to Do not disturb.

🚫Do not disturb is when you want to focus or present your screen and don't want notifications to pop up.

🟡Be right back is when you want to say you're temporarily away. It's never set automatically.

🟨Appear away is when you need to work without responding right away.
Note: You can also update your status from the command box. Type /away,/busy, /dnd, /brb, or /available to set your status as Away, Busy, Do not disturb, Be right back, or Available.