Server Selection
Welcome to the GoRev Server Selection Tutorial. In this tutorial, we will focus on the process of navigating the Server Selection Screen in GoRev.
---
1 : Navigating to the Server Selection Screen
As a GoRev User, the Server Selection screen will allow you to access the GoRev Account for your required workplace.
Launching GoRev
To begin, please Launch GoRev by double clicking on the GoRev Launcher icon on your device.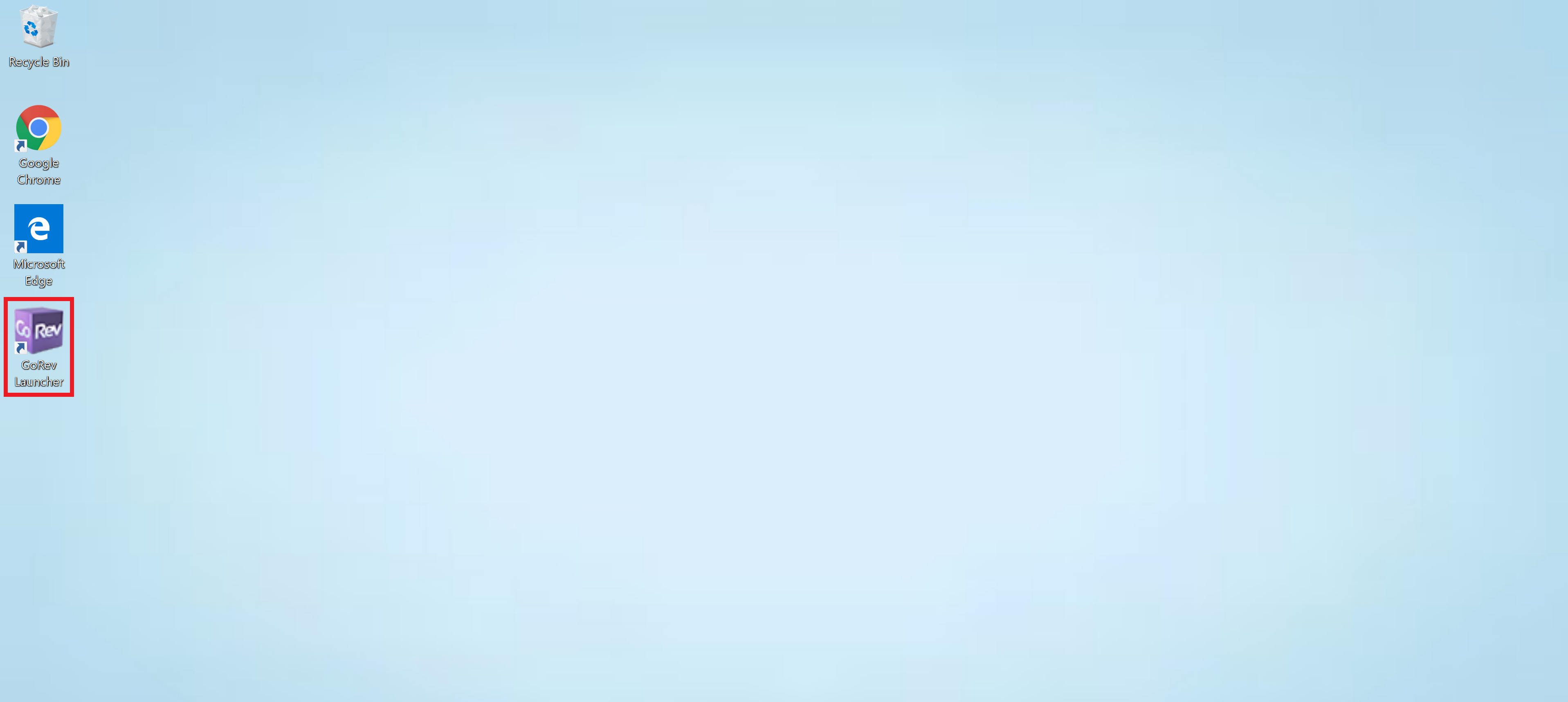 Server Selection Screen
At this point, your Server Selection Screen will be visible. In this window, each Tile is a button that will allow you to Login to your GoRev Account for the corresponding workplace.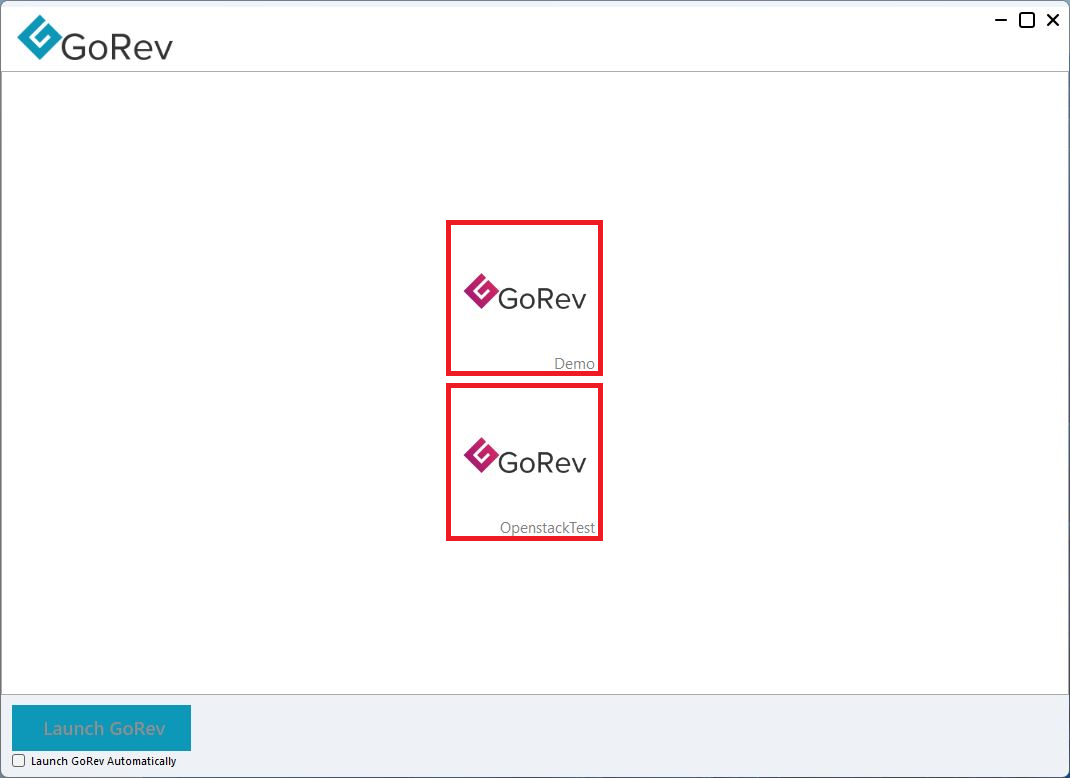 2 : Utilizing the Server Selection Screen
Selecting a Server Tile
Now, in order to Login to the GoRev Account for a specific workplace, please begin by clicking on the required Tile in this window.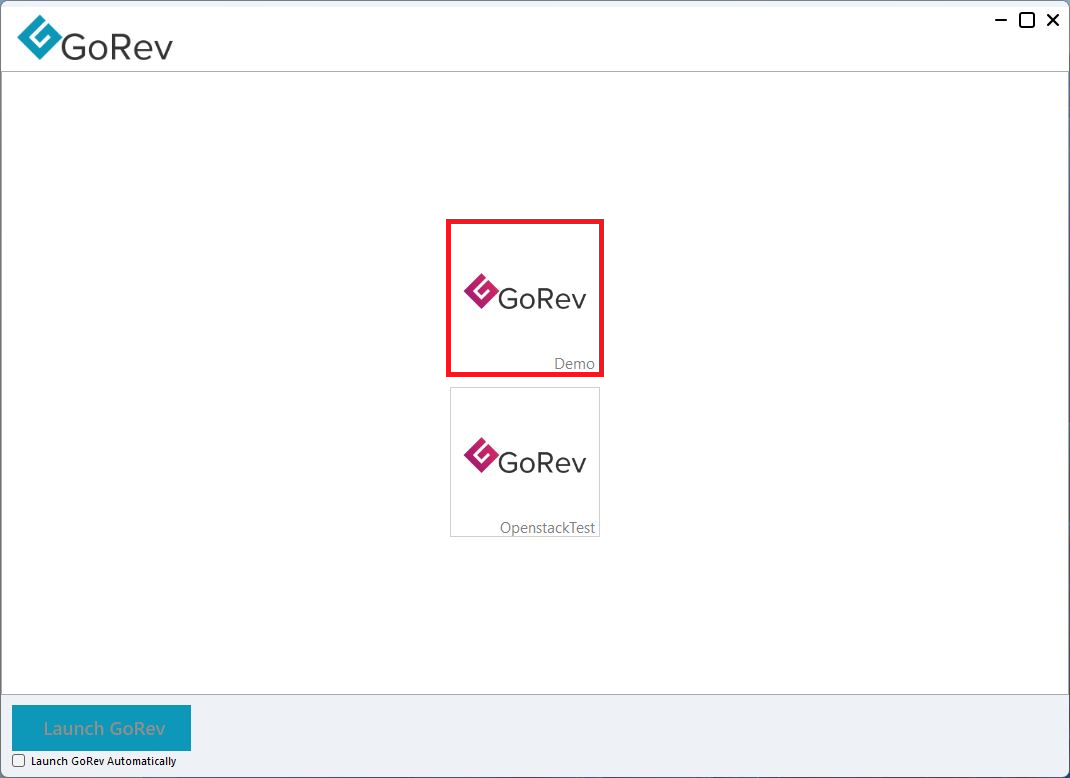 Entering your GoRev Information
At this point, the GoRev Login Screen for the selected Server will be present on your screen. To continue, please enter your GoRev Username and Password into the corresponding fields provided. If your account has two factor authentication set up you will also need to enter your Authenticator Token in the provided field.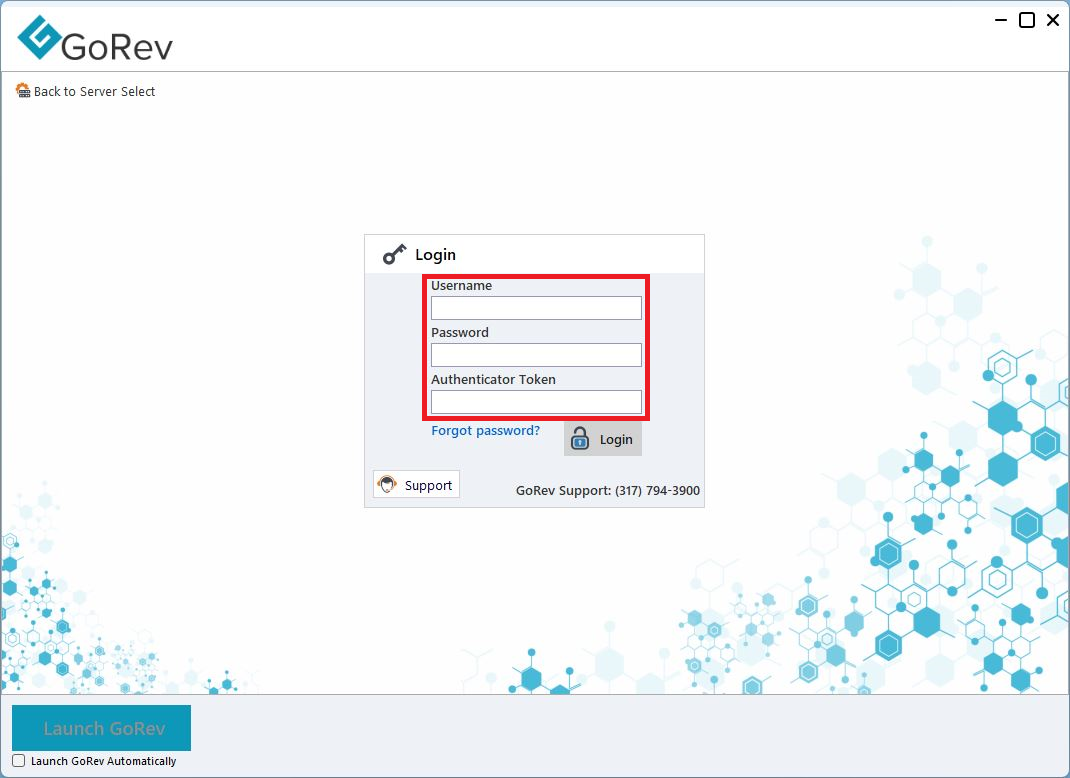 Selecting a Different Server
Note: If you need to change your Server Selection, please navigate back to the Server Selection Screen by clicking on the "Back to Server Select" button in this window and select the Server that you require.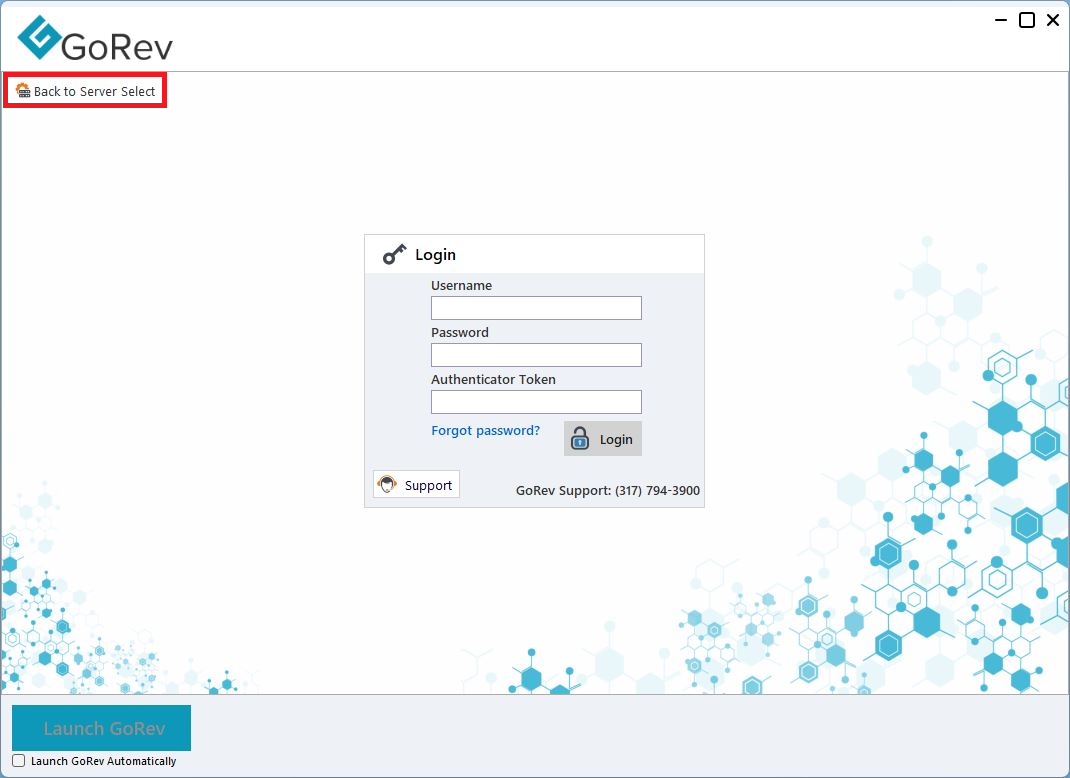 Logging into GoRev
Once you are finished selecting a Server and entering your GoRev Information, click on the "Login" button on your screen.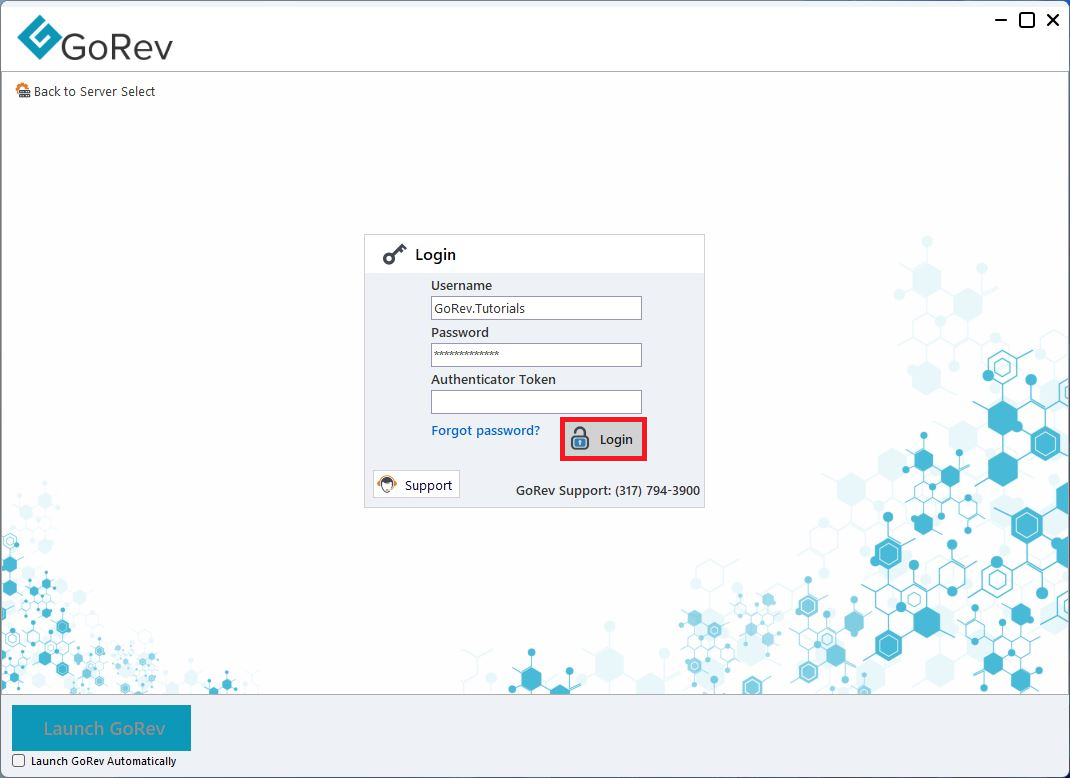 After the GoRev Loading Bar becomes complete, please click on the "Launch GoRev" button on your device.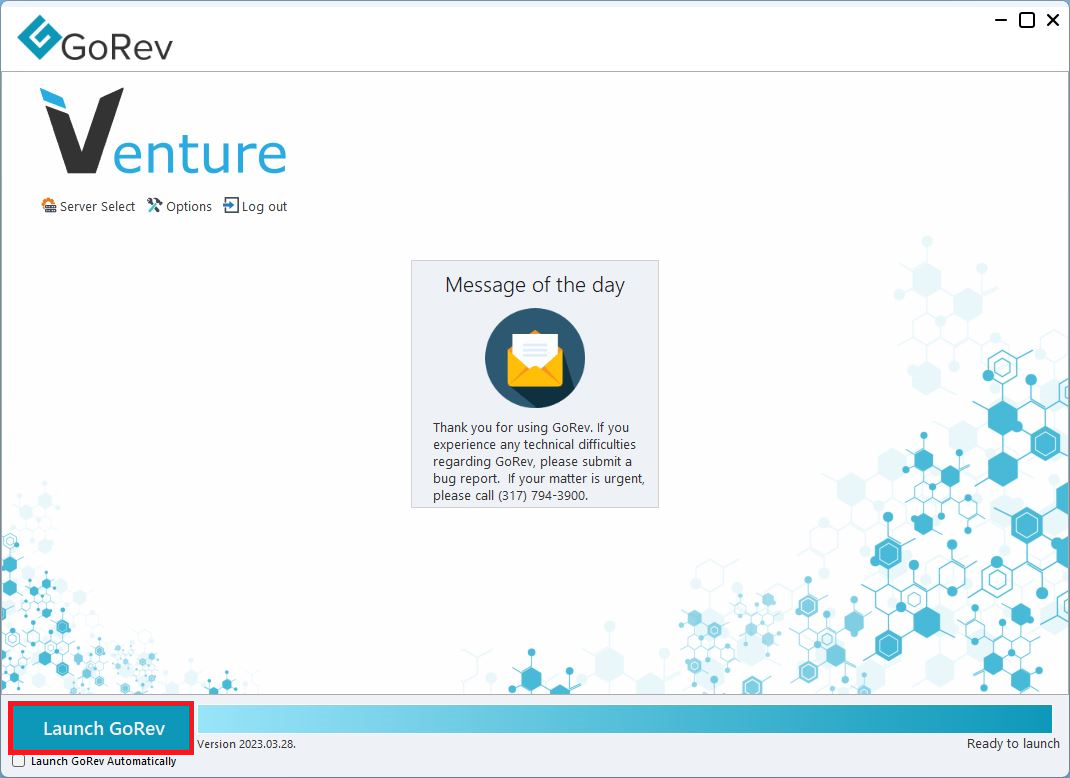 You can also check the box marked "Launch GoRev Automatically" to have the software run as soon as it's ready.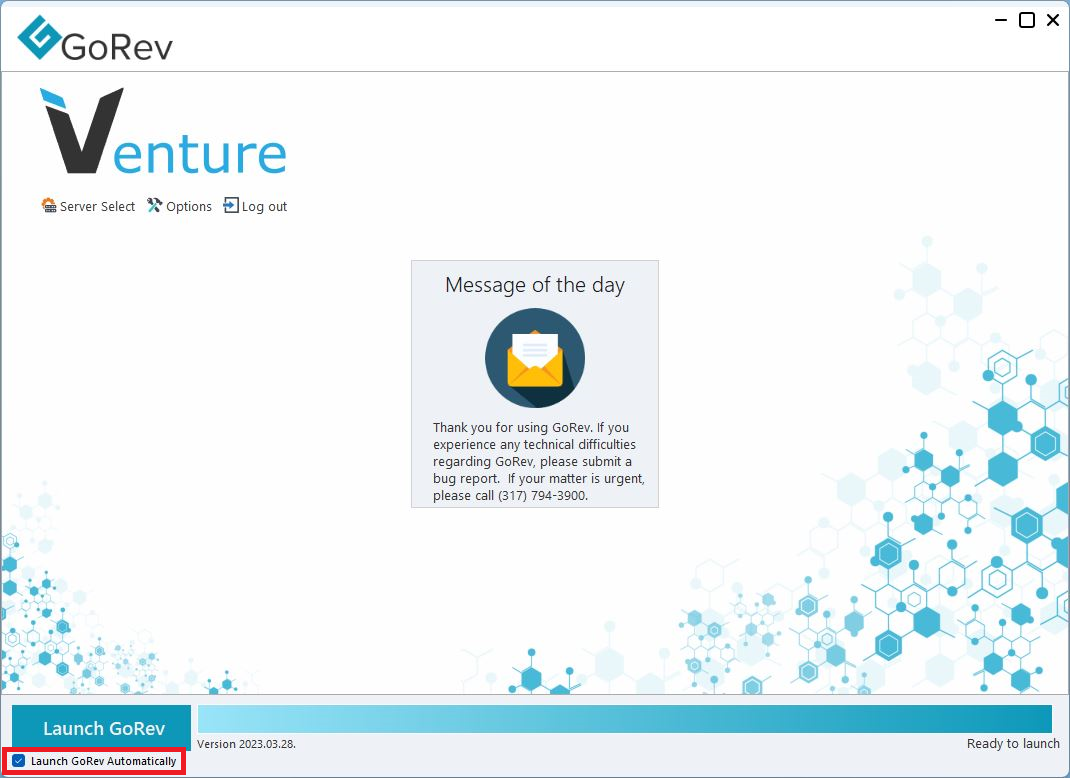 At this point, the GoRev Homepage for the selected Server will be present on your screen.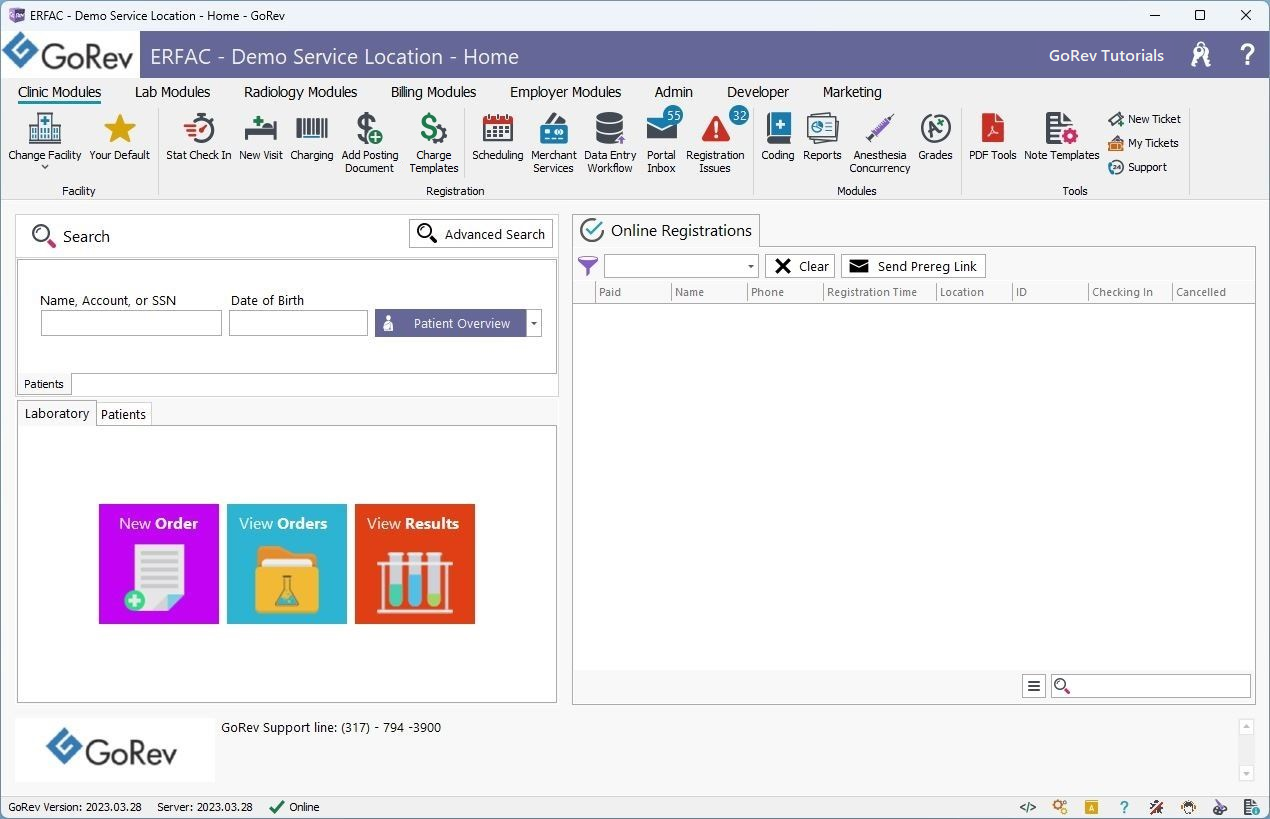 3 : Troubleshooting
In the event that you experience an issue while utilizing the GoRev Server Selection screen, please reference the below troubleshooting tips to better understand and troubleshoot the situation.
Gray Server Selection Tile
If your Server Tile or one of your Server Tiles on the Server Selection screen is Gray, the Server is offline. Please call GoRev Support at 1-(317)-794-3900 so that one of our Support Agents can investigate the issue.

Note: If you are unable to login due to missing access and do not know which individual(s) are Authorized Delegates for your Facility, please don't hesitate to contact GoRev Support. Our Support Agents have a comprehensive list of contact information for Authorized Delegates readily available for reference.
---
Additional Resources
GoRev Support Team
If you have any additional questions or concerns regarding this tutorial, please contact the GoRev Support Team by phone at (317) 794-3900 or by email at ask@gorev.com
Note: Always submit an IT Support Ticket detailing the problem that you are experiencing with this portion of GoRev, if possible, as this will give GoRev Support Agents access to information that will help expedite the resolution of your issue. If you are unsure how to submit an IT Support Ticket in GoRev, please see the IT Support Ticket Creation tutorial for assistance.
---