Electronic Patient Statements
The GoRev system supports dynamic electronic patient statements sent via email and sms text. These messages are HIPAA compliant relaying no sensitive PHI directly in the body of the email or sms text. Patients must first authenticate using a combination of their first name, last name, date of birth, and at times their account number. This guide will walk you through how to generate electronic statements and what the patient experiences when you do.
If you are interested in activating this GoRev module please submit a support ticket or contact us at 317-794-3900.
A detailed guide on how to configure this system can be found here: Electronic Patient Statement Settings
---
Generating an Electronic Statement
When the electronic statement module is activated for your GoRev server you will notice a few changes made to default settings.
The statement delivery method will be changed to Electronic for all patients. You can set this to paper for any patient opting out of electronic statements.
Communication Preferences will have Billing by Email and Billing by SMS checked on by default for all patients. This is where you can uncheck a specific electronic route by patient should a patient request it.
Click into Financials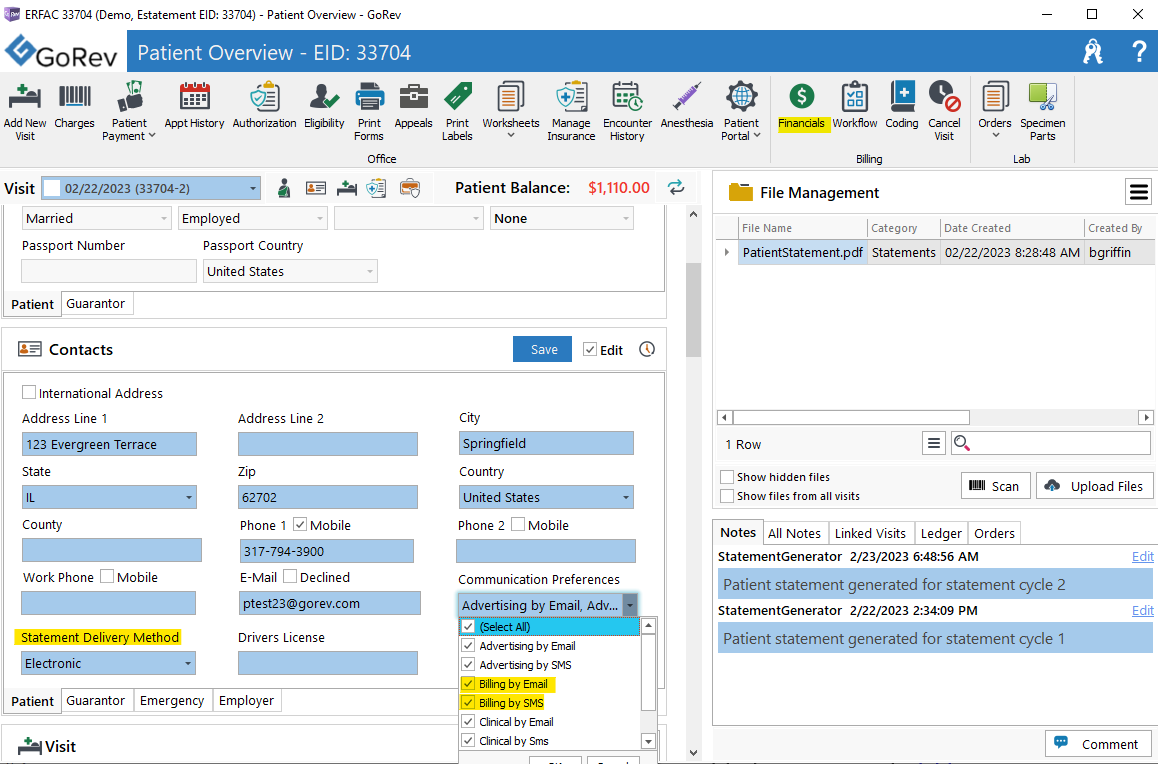 Click on the

button towards the far right side of the Patient Responsibility (All Visits) section and you will see the below options appear.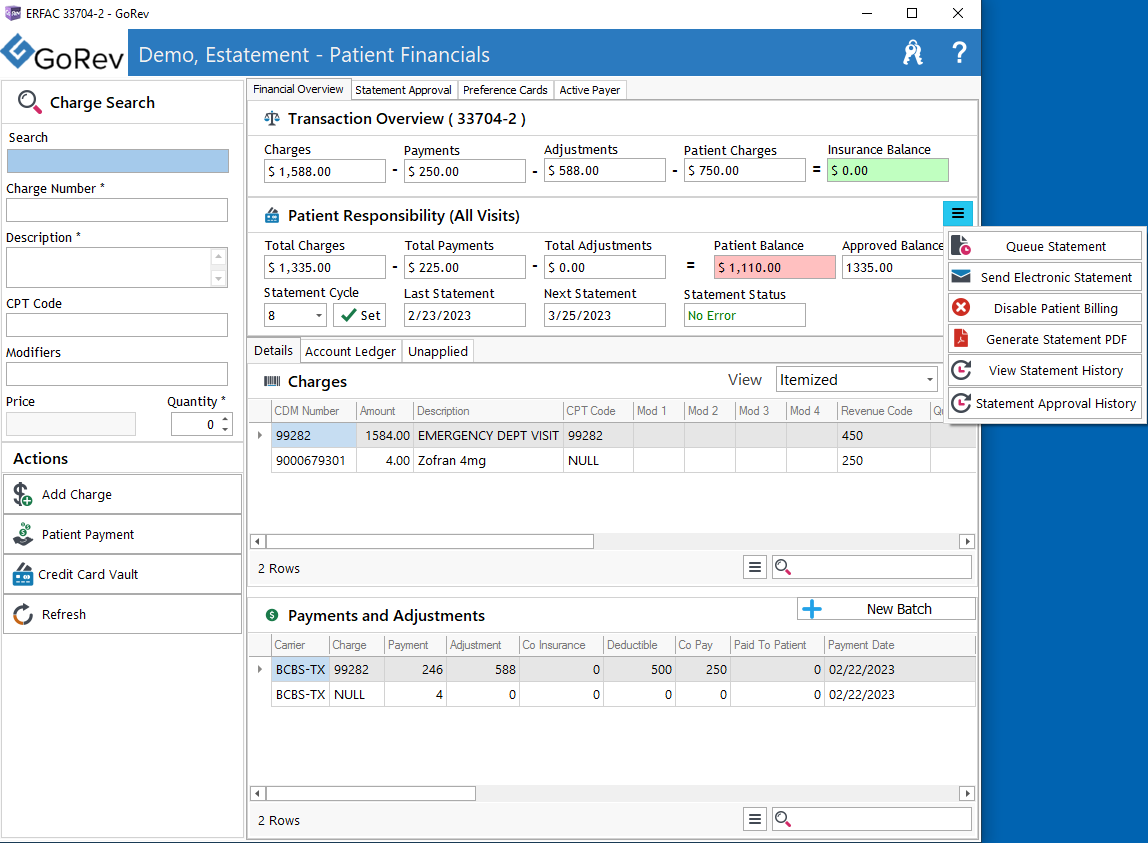 The Queue Statement option places the statement into the current pending batching queue. When the statement batch is generated this queued statement will generate using the current method assigned to each patient (paper, email, sms).

Clicking Send Electronic Statement will cause the statement to immediately generate and transmit electronically to the patient. The system will look at the patient's settings described above and attempt to send both an email and sms statement.

Clicking Disable Patient Billing will set the Statement Status for the entire patient (all visits) to Do Not Bill. This will prevent any statements from generating via paper, email, or sms text.

You will see the Enable Patient Billing button on any patient where you have previously disabled patient billing.

Click Generate Statement PDF to generate to a file on your computer. This button does not generate any statement directly to the patient.

View Statement history will bring up a new window showing every statement generation via any route (paper, email, or sms). The Balance column shows the balance as of the moment the statement generated and may not reflect the current system balance. Status will indicate the success of transmitting the statement. You may see statuses here such as Bounced indicating the patient's email or cellular provider rejected the statement. When this occurs our system dynamically fails over to the next route (email / sms text --> paper).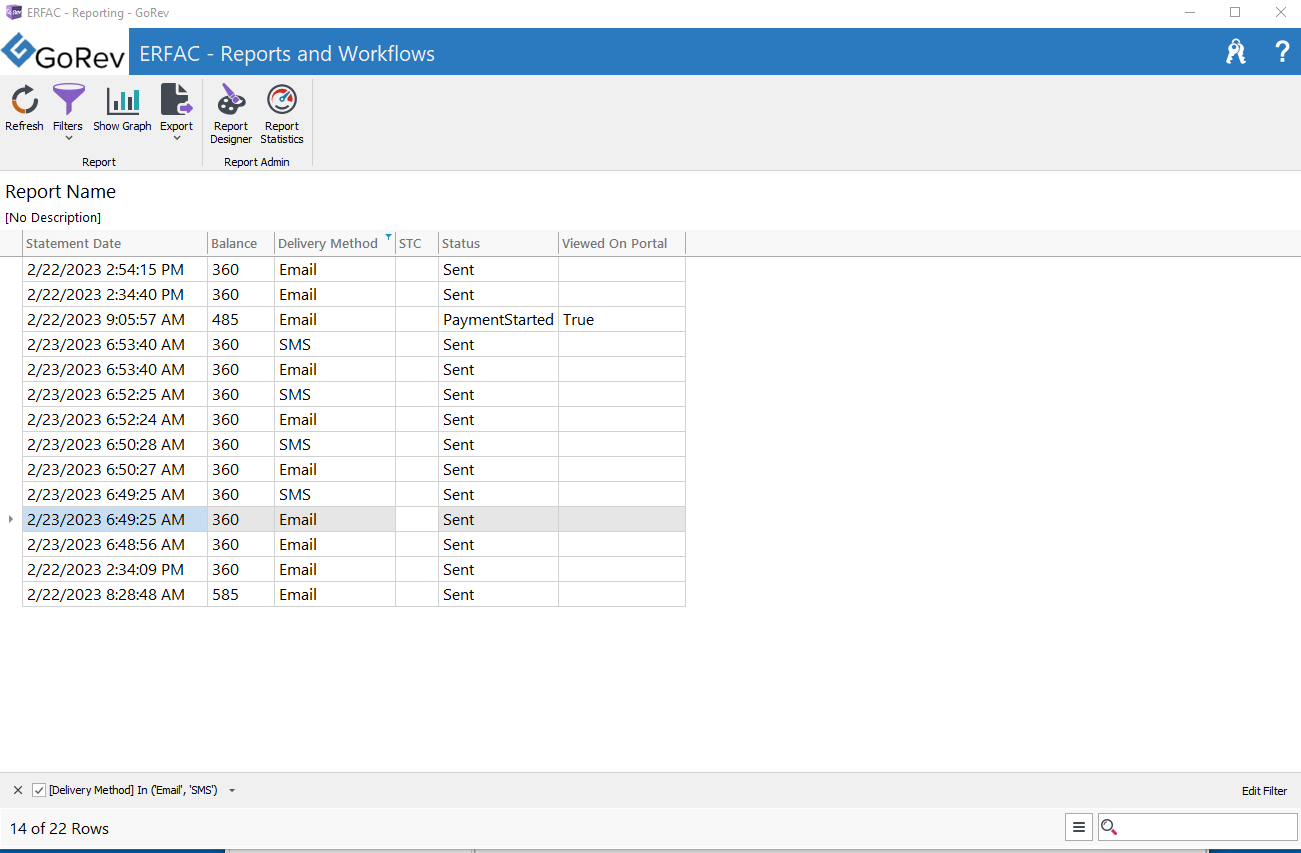 Clicking Statement Approval History will show you a timestamped log of which user approved or changed the approval status of a patient's statements.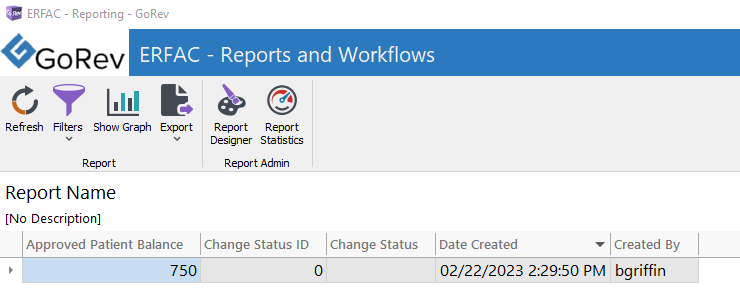 Patient Email Statement Experience
The standard GoRev emailed statement looks like the below. Your logo will be placed where the GoRev logo is currently. Verbiage within the body of the email can be customized as you need.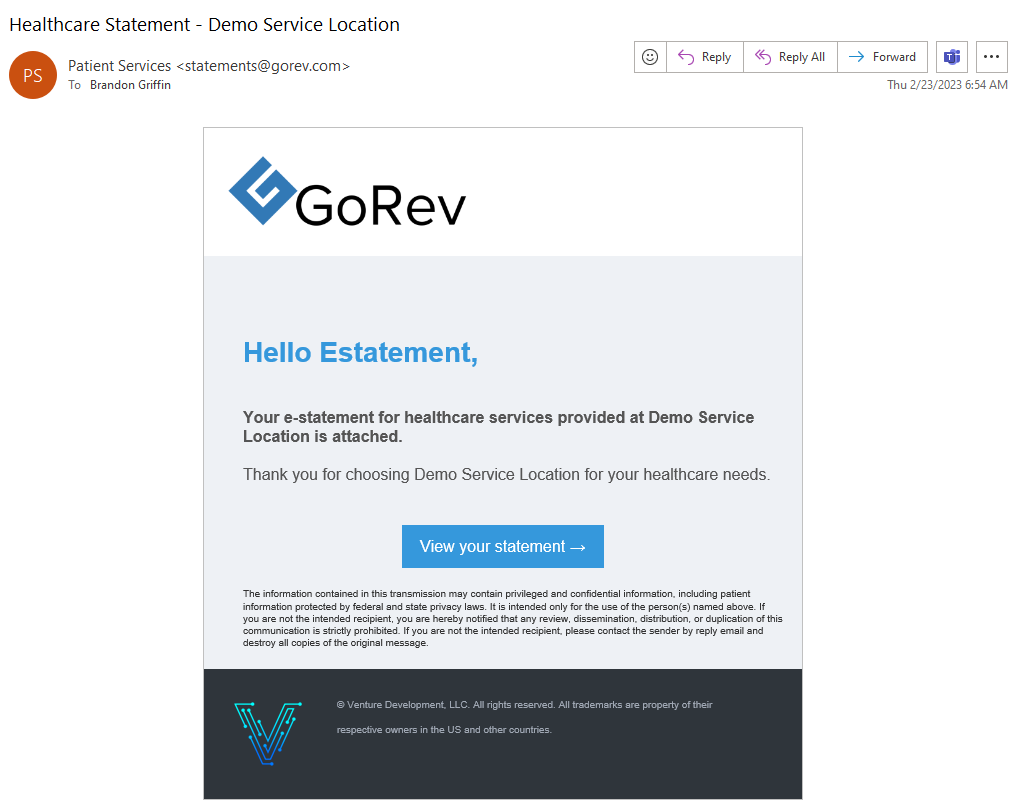 Clicking View Your Statement will take you to an encrypted URL unique to your individual patient statement. These can be opened in any browser on desktop or mobile devices. The below HIPAA authentication check is presented to the patient. Patients will then fill out the three fields and click View Statement. The fields are not case sensitive.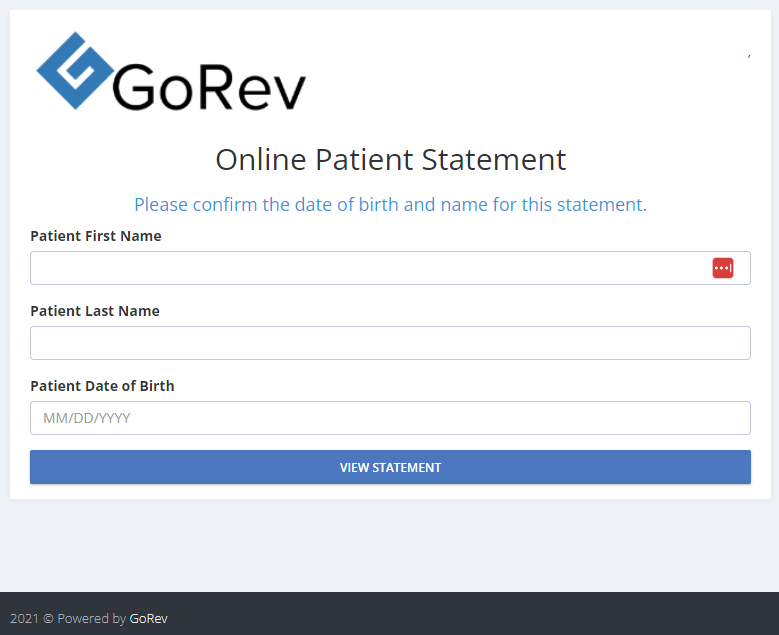 Upon successful HIPAA authentication a patient will see their statement. Sign In will allow the patient to sign into the GoRev patient portal at https://portal.gorev.com. Patients may want to do this in order to see all their statements or use the HIPAA compliant patient communications module to submit a question to the provider or billing team.

Click Download to download a PDF of your patient statement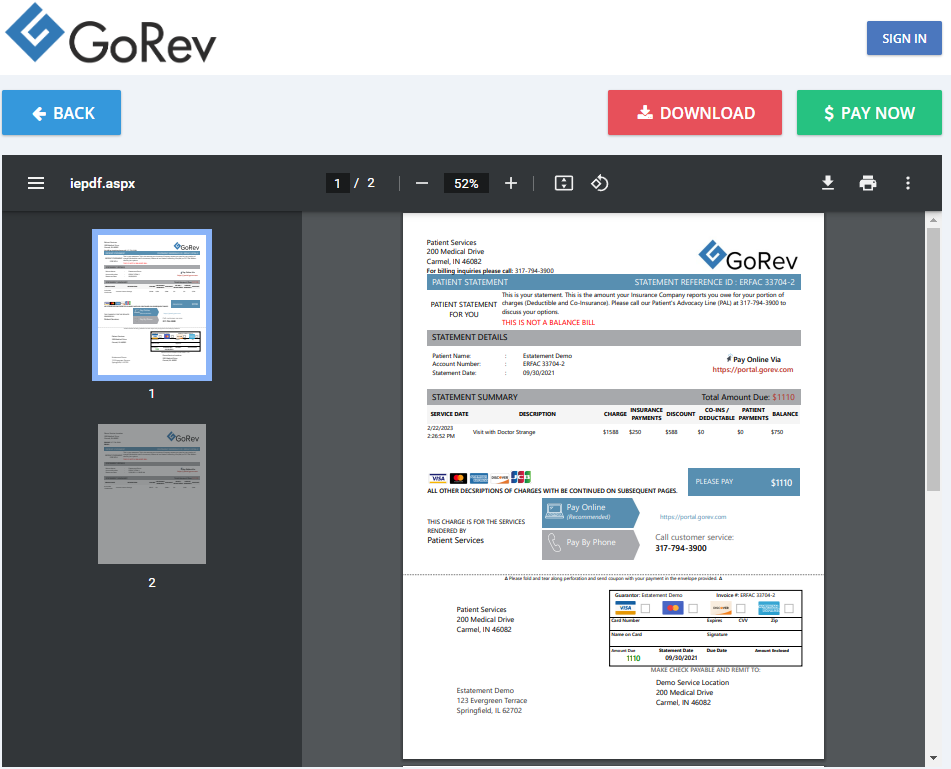 Click Pay Now and you will be presented with the payment method screen shown below. Enter your payment amount and payment method details then click Pay Now.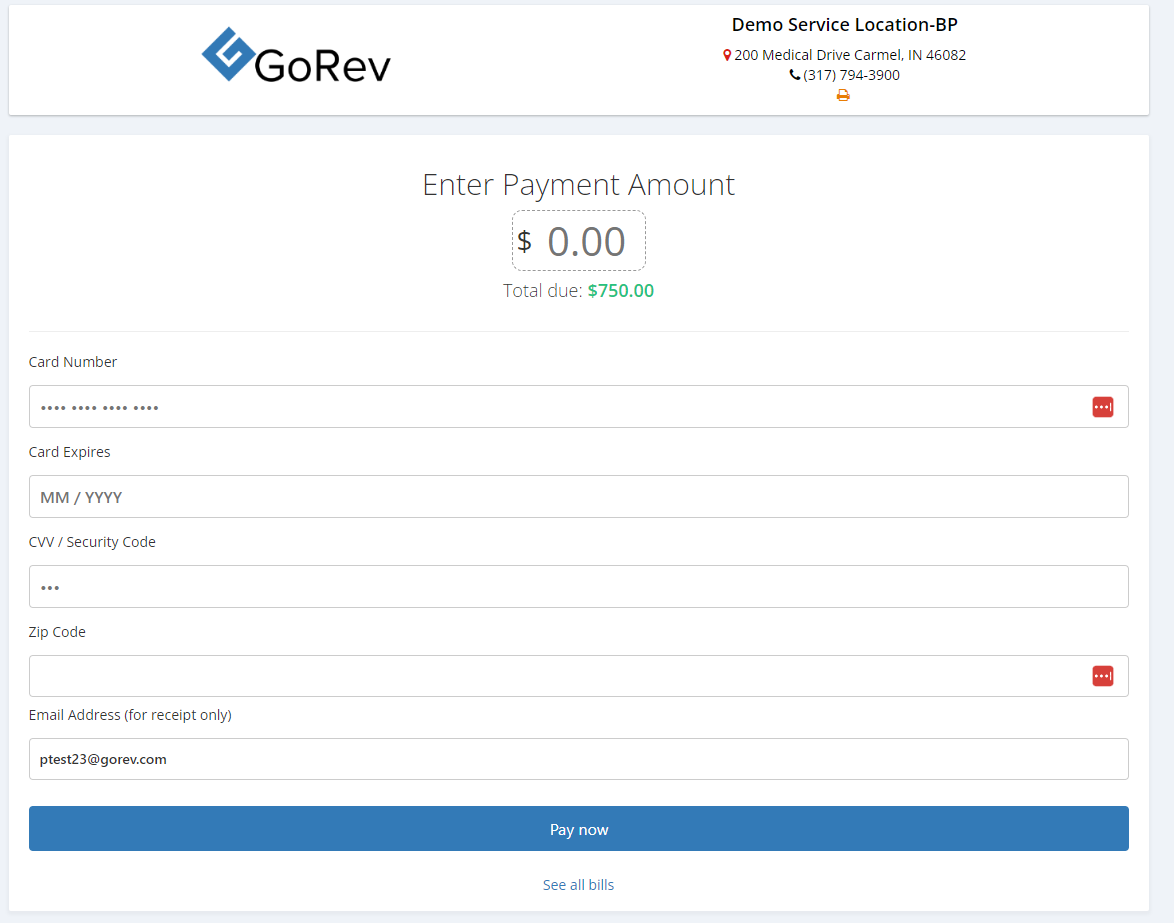 You will be presented with a Payment Successful screen as shown below.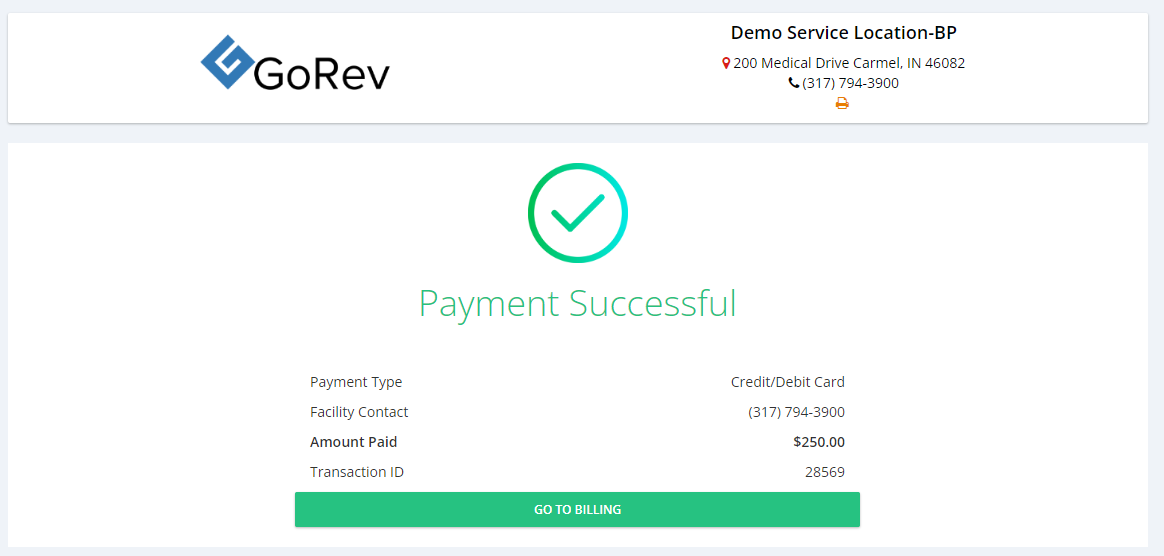 A payment receipt is also emailed to the patient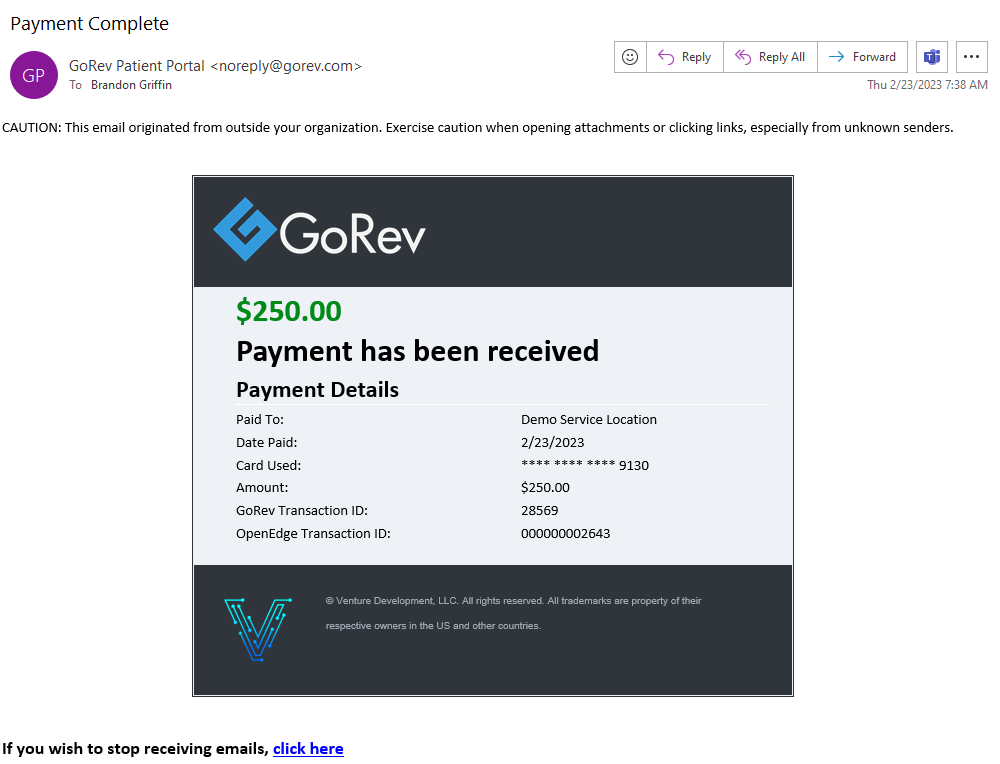 Patient SMS Text Statement Experience
The standard GoRev SMS text statement looks like the below. All SMS text messages transmitted by GoRev are done so using our short code 36753. Verbiage within the text can be customized to your needs.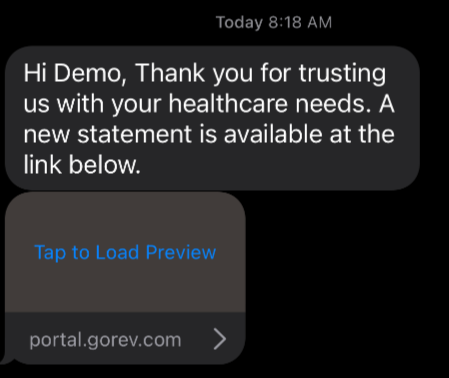 Patients are presented with the same HIPAA authentication check process.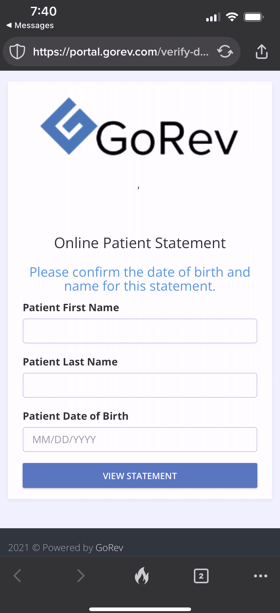 Once HIPAA authenticated patients will see a similar mobile view and be able to perform the same Download Now and Pay Now actions as described in the email statement process above.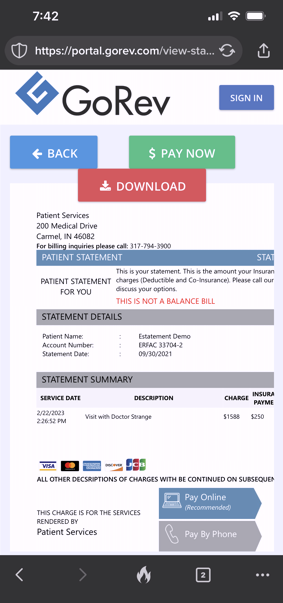 ---
GOREV SUPPORT TEAM
If you have any additional questions or concerns regarding this tutorial, please contact the GoRev Support Team by phone at (317) 794-3900 or by email at ask@gorev.com​
Note: Always submit an IT Support Ticket detailing the problem that you are experiencing with this portion of GoRev, if possible, as this will give GoRev Support Agents access to information that will help expedite the resolution of your issue. If you are unsure how to submit an IT Support Ticket in GoRev, please see the IT Support Ticket Creation tutorial for assistance.
---
​