Login to the PowerSchool parent portal: https://ecssd.powerschool.com/public
*If you have not yet setup a PowerSchool parent account, please follow these instructions:
Creating a PowerSchool Parent Portal Account

Navigate to the bottom of the left side menu and click on Appropriate Use Agreement.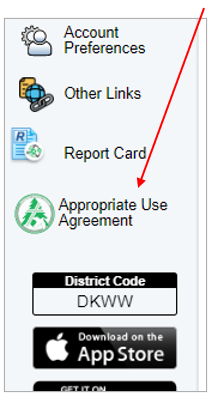 Read through all sections of the agreement with your child(ren).

Check the boxes at the bottom of the agreement to acknowledge understanding and compliance for EACH statement.