Results Overview
This Guide will help you navigate and use all of the tools on the Results Overview Screen in GoRev. This screen is primarily used by lab technicians and those who may need to manage the accessioning, result editing, and result approval processes.
---
Getting Started
First lets navigate to Results by clicking Lab Modules then selecting

Results.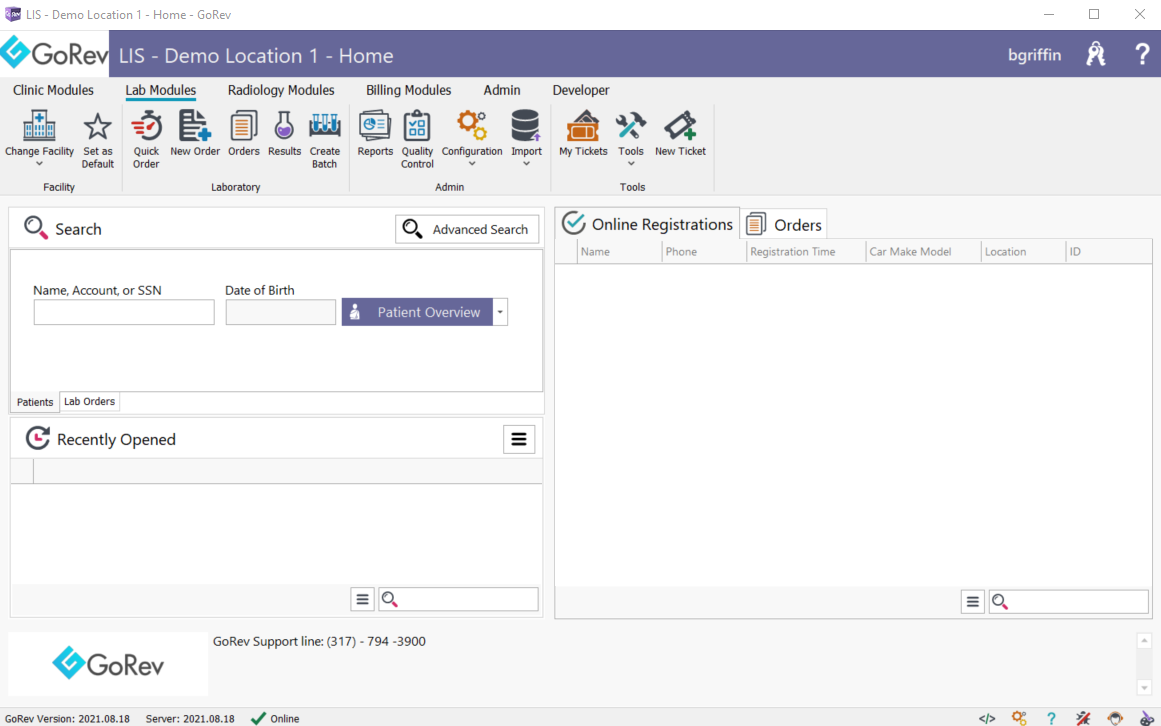 Results Overview
The Results Overview window should now be displayed. There are 3 main sections to the Results Overview screen
The top ribbon bar contains actions you can perform on each specimen. Select an individual specimen from the bottom right pane and it will highlight. At this point you can utilize the buttons in this top ribbon to perform actions on the specimen.
The left pane contains searching options. Any combination of fields can be populated or toggled to assist with searching for specimens.
The bottom right pane contains the current list of pending specimens. Note, you can toggle to Show Received/Complete using the checkbox towards to top mid right. By default this specimen pane only shows the previous 30 days. You can update this default date range preference by clicking into your name towards the top right, clicking preferences, click into Laboratory tab, and set your Default Results Date Range.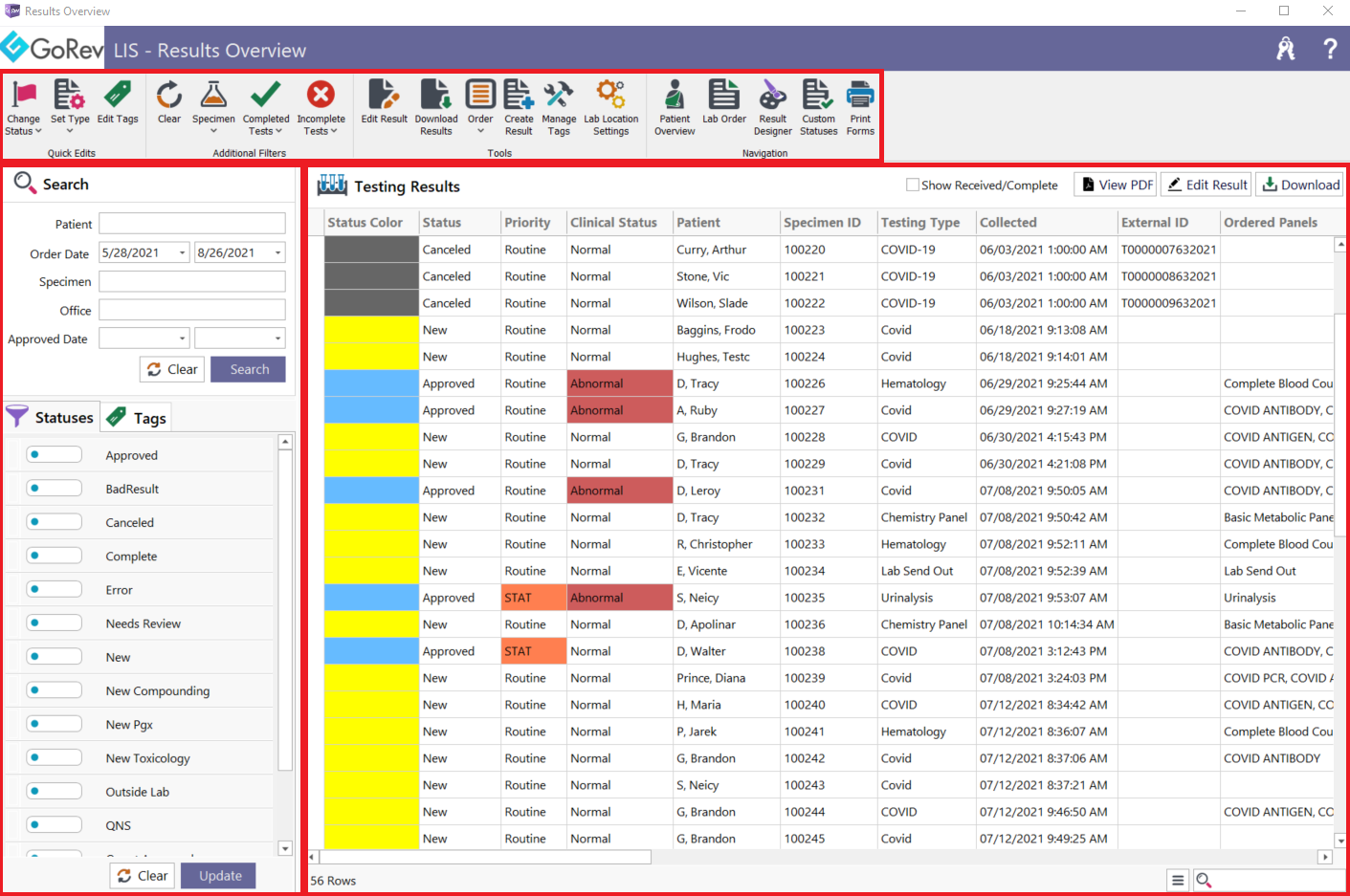 The Searching Pane
Use this section to search for individual patients to see all specimens for a specific patient, individual specimens, specimens by Office (aka Locations), specimens by order entry date or approval date. Click search once you have populated these fields and your specimen pane will update.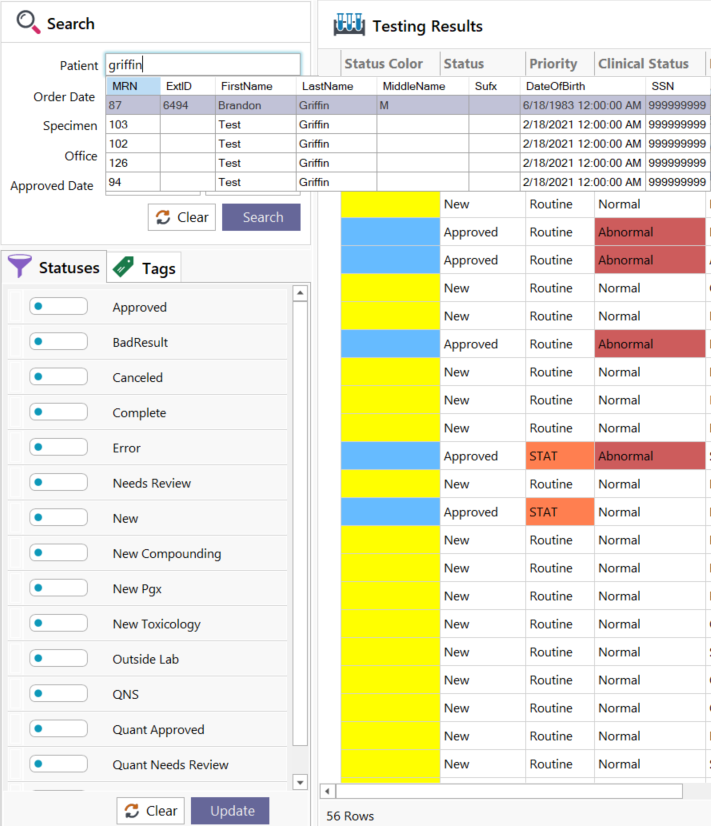 Status Toggles
The toggle buttons towards the bottom of the search pane contains one toggle for each standard specimen status and any custom status codes you may create. See a bit further down for Custom Statuses. Toggle any combination of these on and click Update. Your specimen pane will update with only specimens containing the toggled specimen status codes.
Tags
Our tagging system allows you to on the fly tag individual specimens with of your configured tag values. Tags do not show on any result and are for internal use and informational use only. #welovehashtags. To search by tag, click into the Tag tab within the search pane and start typing. It is instant search and will show all tags you have used in the list. Select one or more tags and click Filter. Your specimen pane will update to only specimens containing those tags.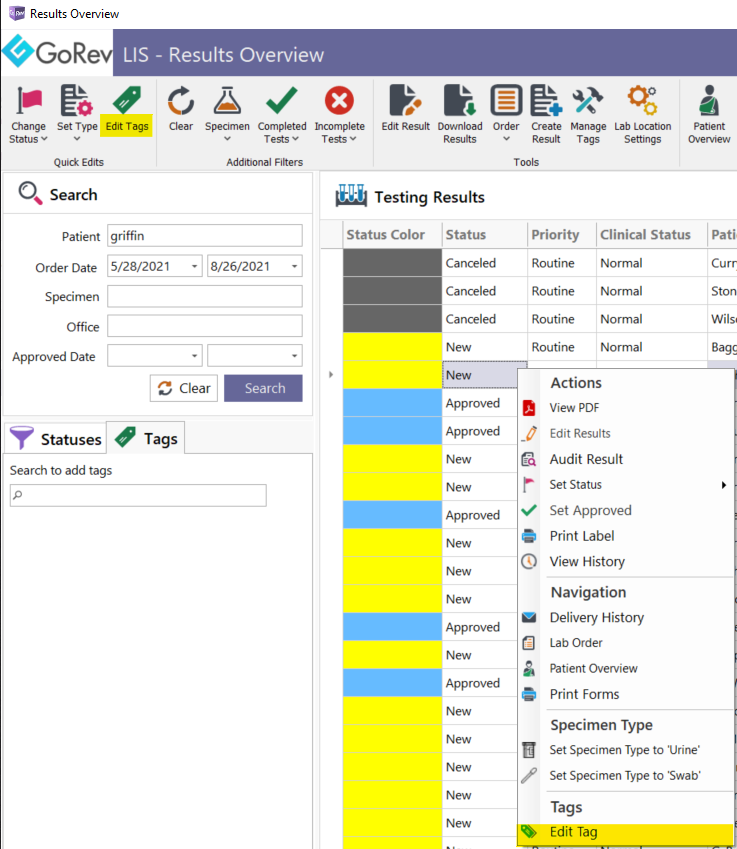 ---

The Top Ribbon Bar

Change Status
Click on a single specimen or highlight multiple specimens as shown below. Then click Change Status and select a status code. This will change the status on each specimen. Note, this action is logged by user and timestamped.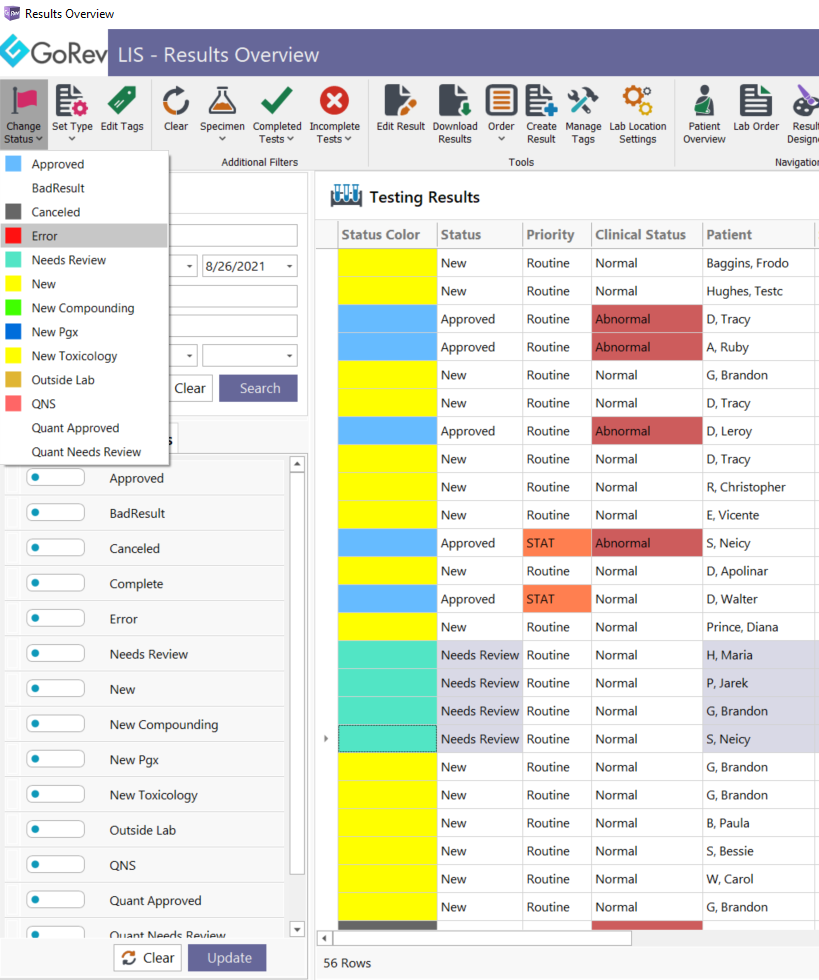 Set Type
Click on a single specimen or highlight multiple specimens as shown below. Then click Set Type and select a specimen type. Note, a standard list of specimen types is provided but you can add to this list at any time using Lookup Tables. Once you have clicked a specimen type each specimen highlighted will have its type updated.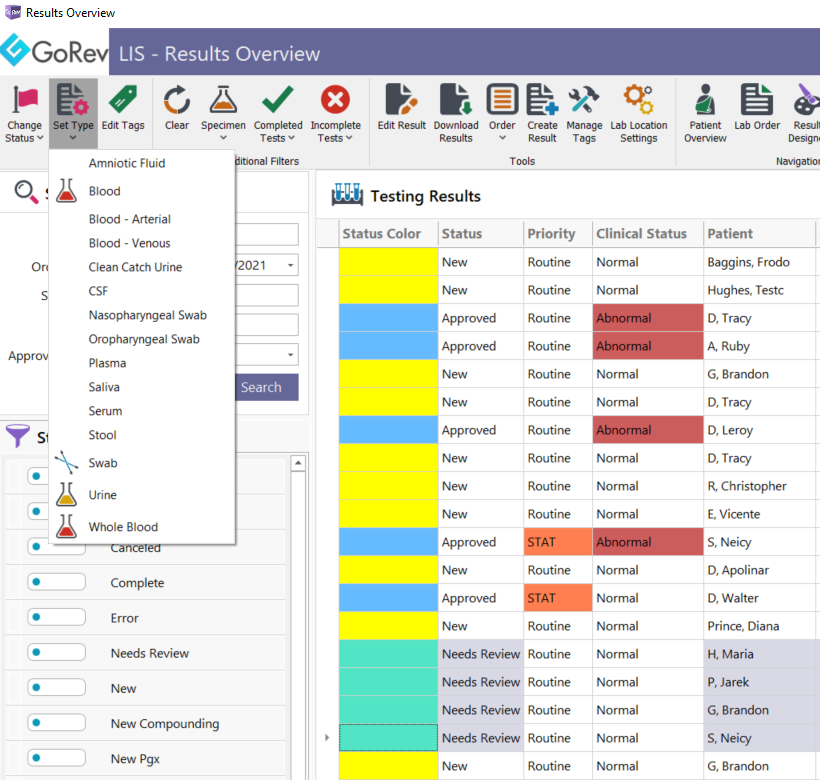 Edit Tags
Click on a single specimen or highlight multiple specimens as shown below. Then click Edit Tags. You can then assign any number of your custom tags to the highlighted specimens.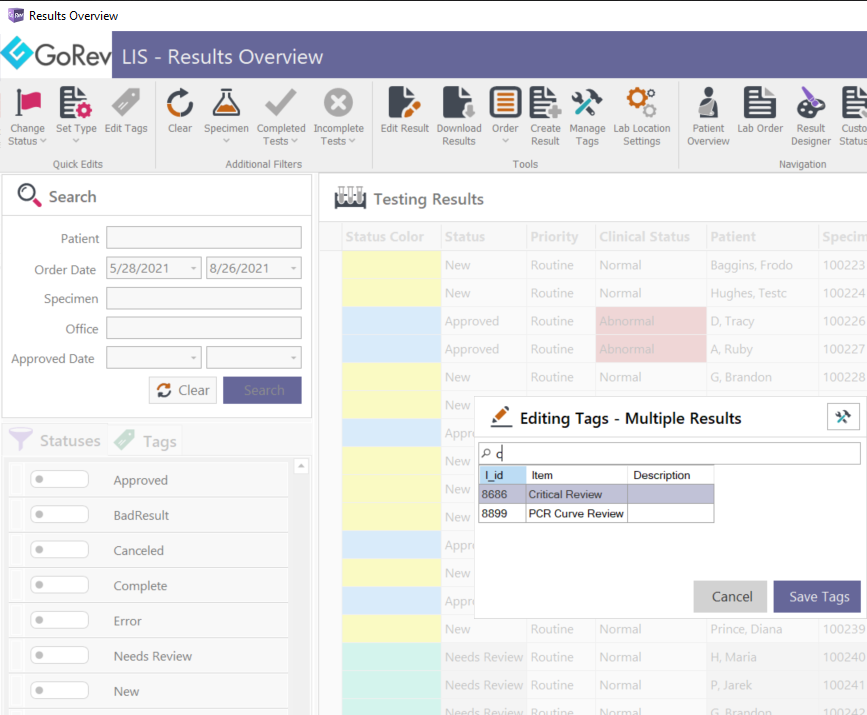 Clear
The clear button will clear all of your searching and filtering settings and reload your specimen pane with your default list of pending specimens

Specimen
This button will allow you to toggle on filters by specimen type. As you do this your specimen pane will update with only specimens with the selected types.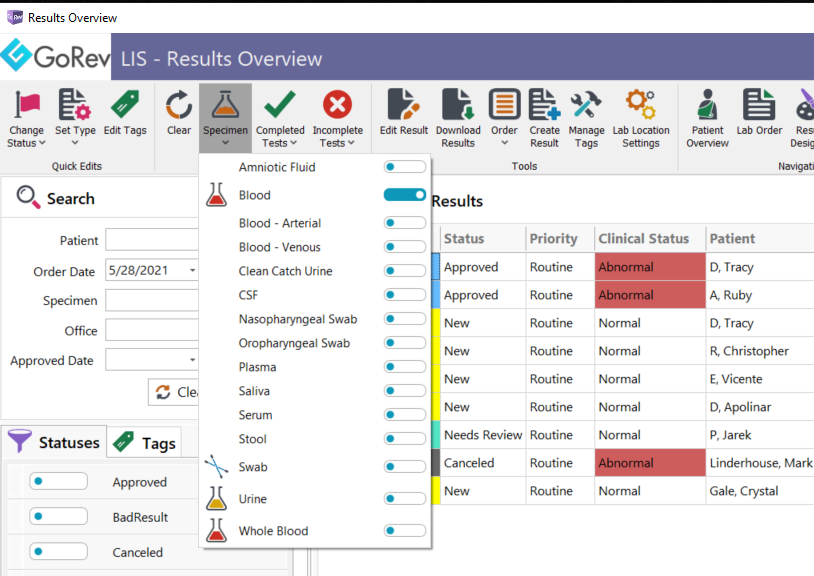 Completed Tests
This button will allow you to toggle on individual toxicology screening, confirmation, or validity tests as well as toggle on individual tests by drug category (aka drug class) and by ordered panels (for example, Comprehensive Metabolic Panel). These toggles will pull any specimens containing tests within your toggled switches. Note, this button "Complete Tests" only shows tests that have been completed. It will not return tests that have been ordered but not yet completed (aka Incomplete Tests).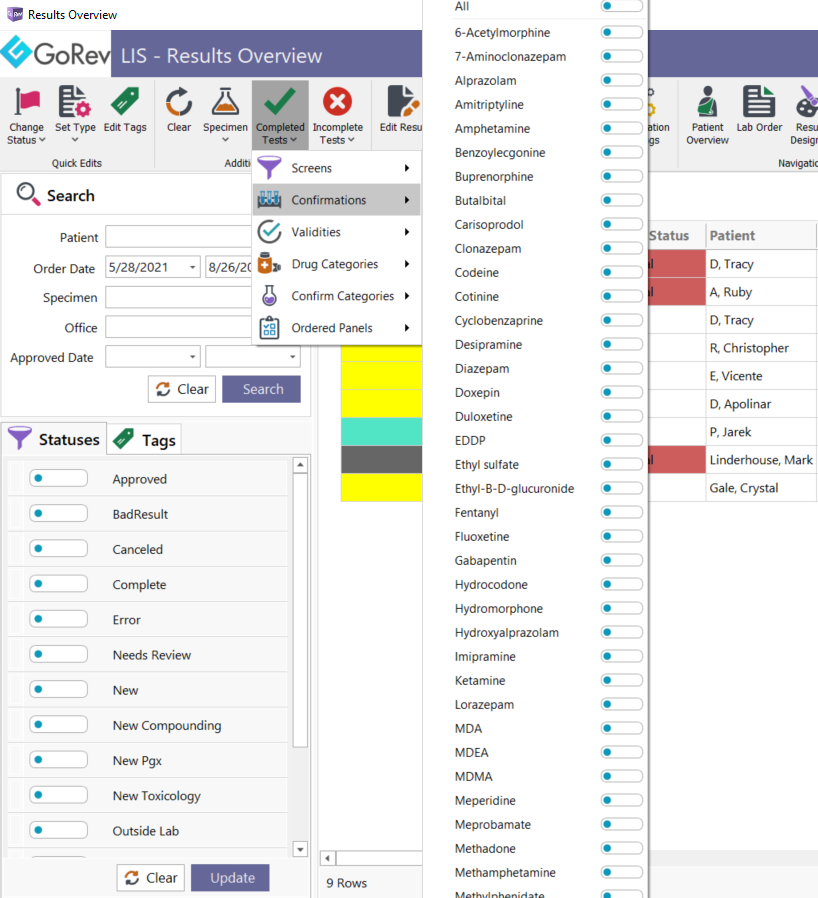 Incomplete Tests
Same exact functionality as Complete Tests above however this only shows tests that have been ordered but have not yet received results from your equipment or via manual result entry.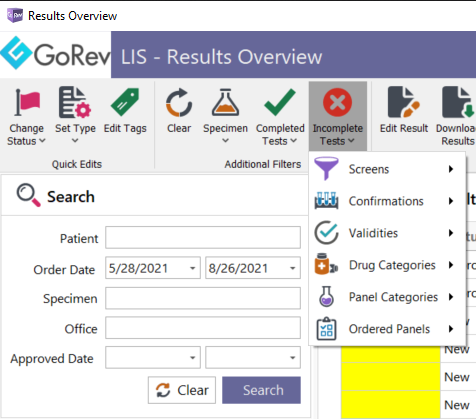 Edit Result
Highlight a single lab specimen and click Edit Results. This will open the main results editing user interface. A guide for this section can be found here. Editing Individual Specimen Results
Download Results
Select one or more specimens from the specimen pane and then click the Download Results button. This will download a PDF of the current specimens results using your assigned result design template. By default selected rows is toggled. If you toggle All Rows it will download results for all rows currently shown in the specimen results pane. By default it will download one PDF for each specimen. There are scenarios such as delivering multiple patient's results to a physician client of the lab where you may want to merge all the results into a single PDF. Simply check on the Merge PDFs? checkbox and the system will merge them in to a single file.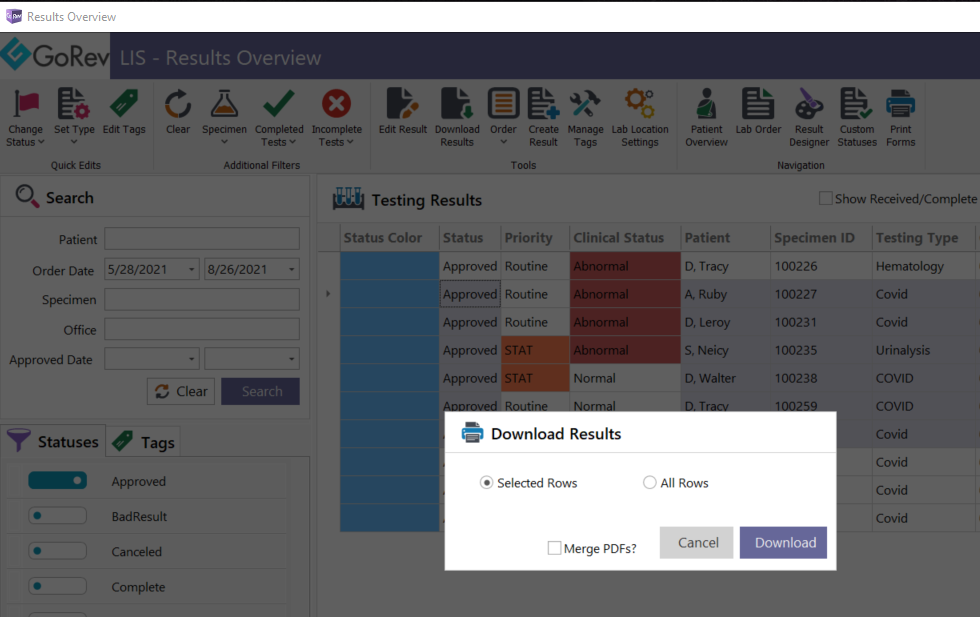 Order
The Order button will allow you to perform two functions on one or more selected specimens. Send Electronic Order will allow you to send an ORM HL7 order message to lab devices that support this interfacing method. View Basic Order will generate a PDF of the Order for the specimen which is rendered from the order that was originally digitally placed within GoRev.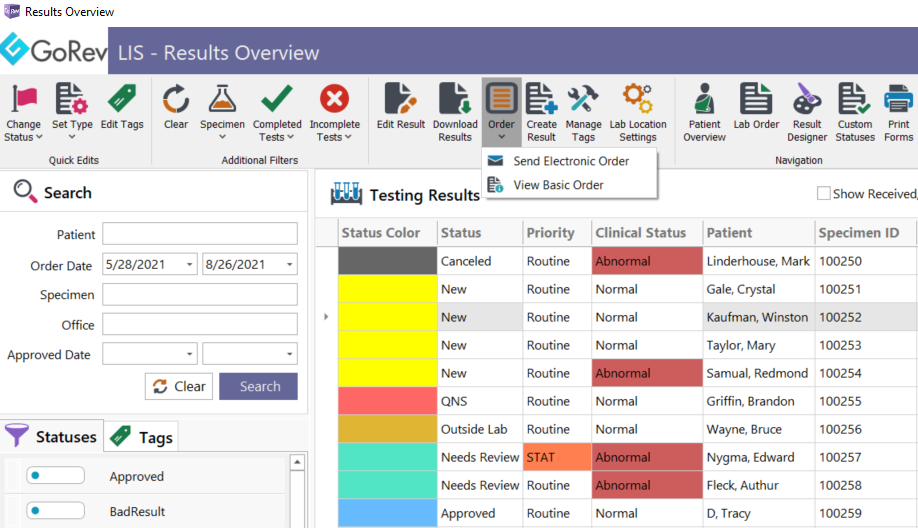 Clicking Send Electronic Order will present you with a list of your devices. Click either selected rows or all rows to send the HL7 order to your selected device. Note, this is nearly always automated and is only required for a small subset of lab devices incapable of LIS host querying orders.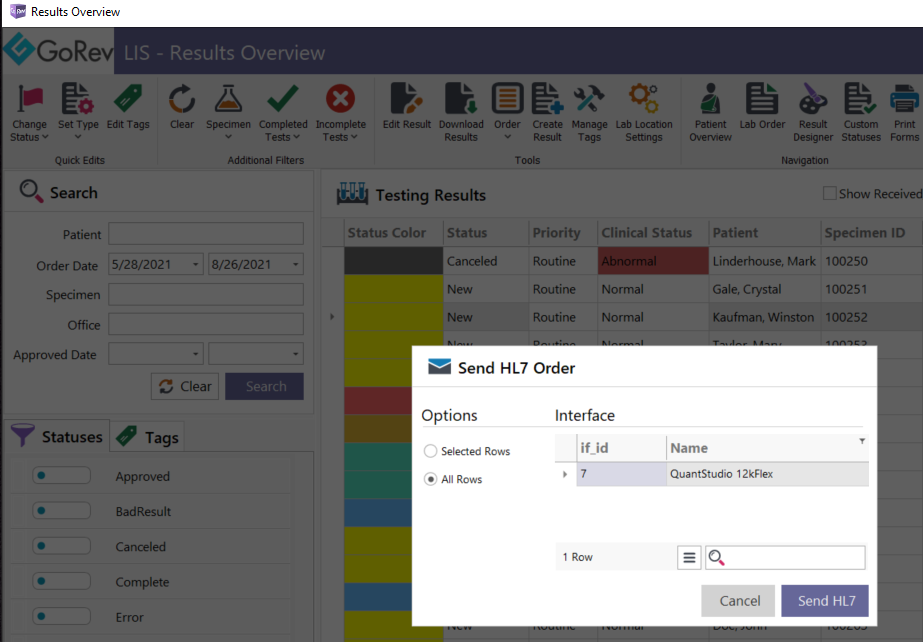 Manage Tags
Clicking Manage Tags will open up the user interface to manage all of your usable tags. Click New Tag to add a tag, Edit to change an existing, and Delete to remove a tag from being usable (note removing a tag also removes it from all specimens it was applied to).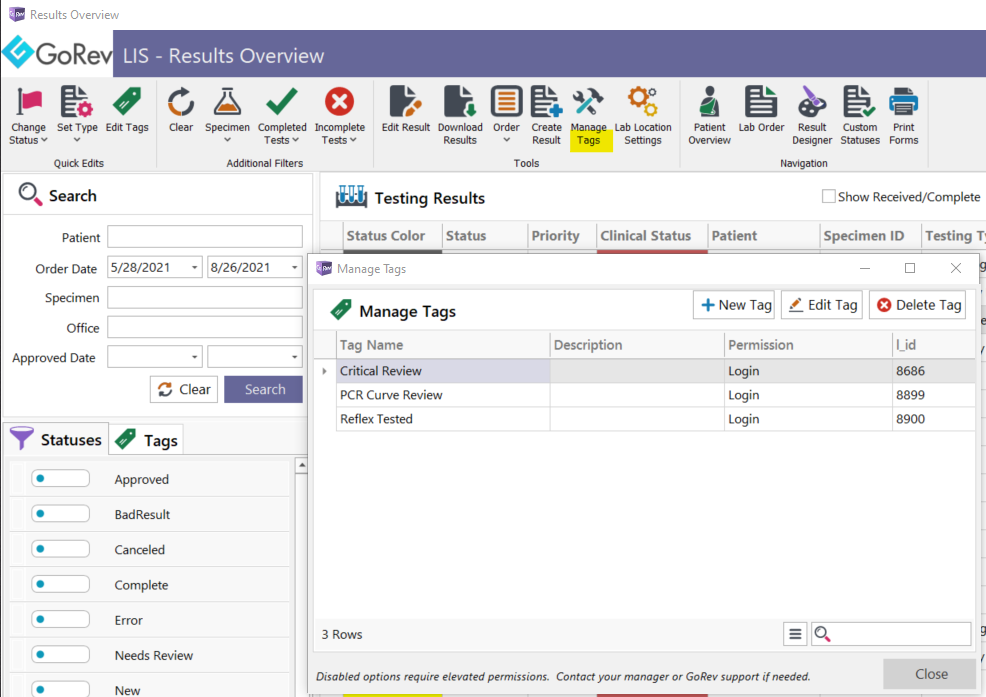 By default all users will have access to use all tags. You can restrict tags to specific permission groups as shown below: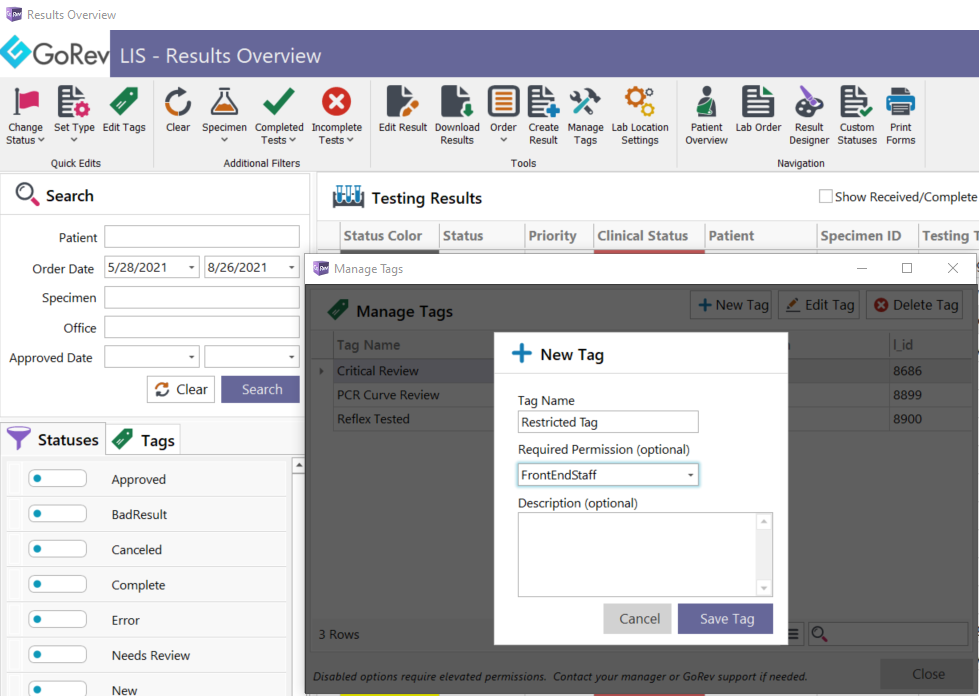 Lab Order
Selecting a specimen and clicking the Lab Order button will open the order for the specimen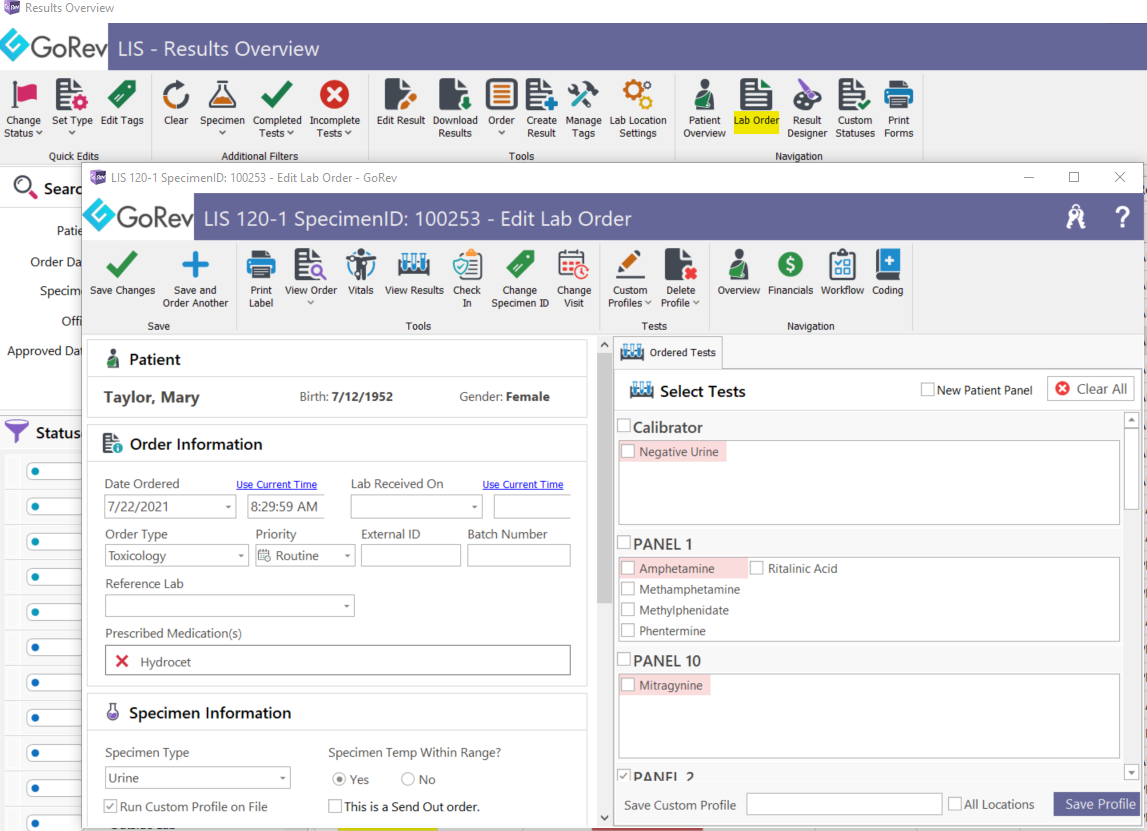 Custom Statuses
Clicking the Custom Statuses button will allow you to manage your custom specimen statuses. These are the statuses you can assign to individual specimens as well as the toggleable status codes within the bottom of the search pane.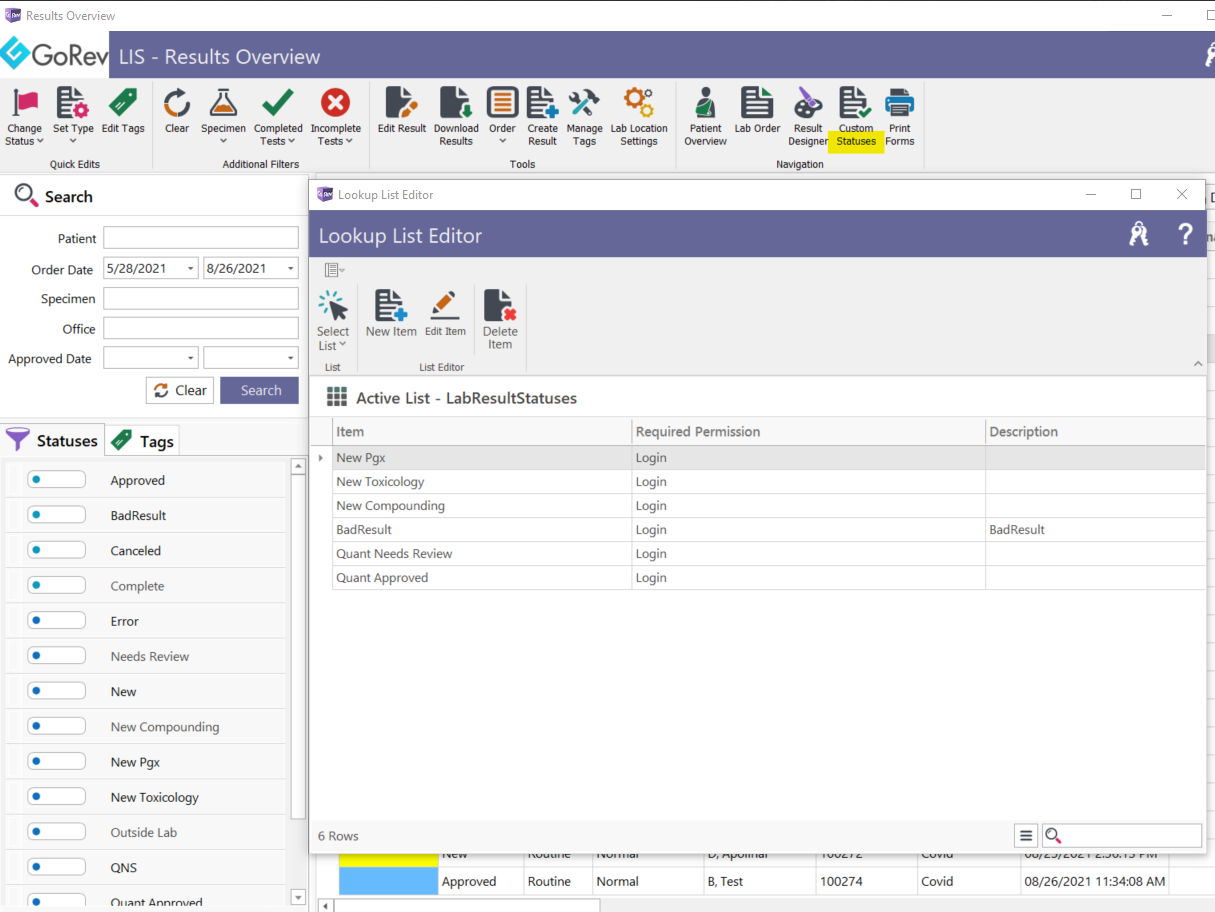 Show Received/Complete
Checking the Show Received/Complete checkbox will cause the completed specimens to show within the specimens pane. A specimen can make it into the Completed status in one of three ways.
The Patient views the result on the patient portal

Your lab client downloads or views the report within the lab client portal

The specimen is sent successfully via encrypted email or fax to your client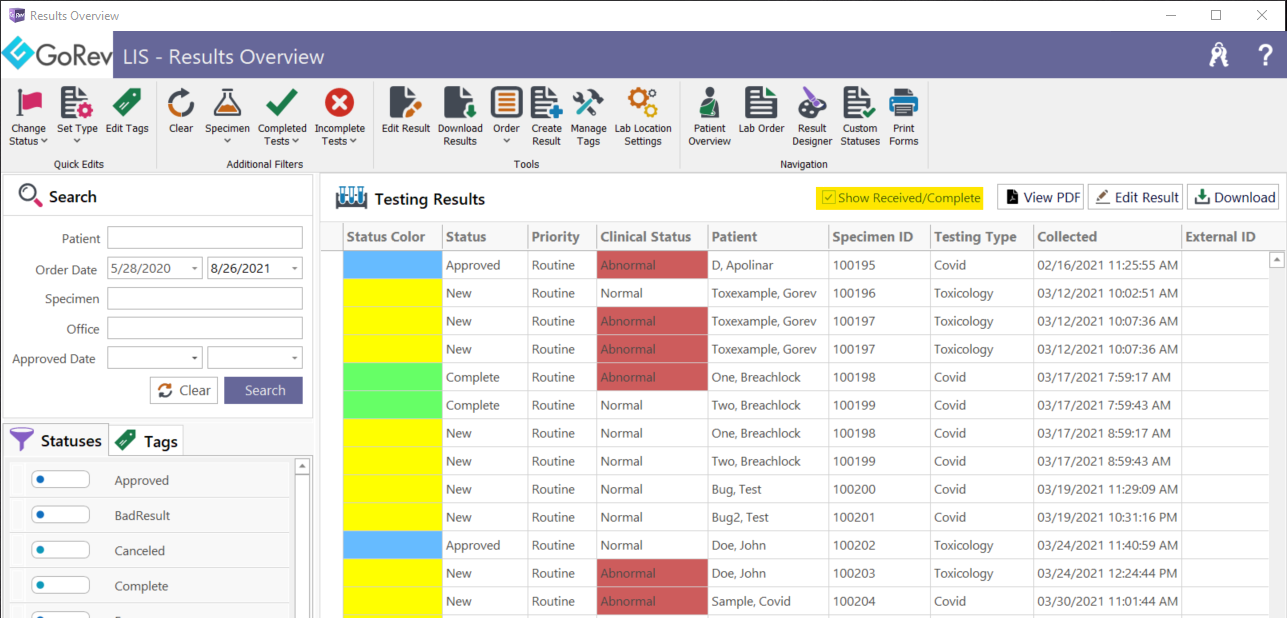 Right Click Functionality
Right clicking on any individual result will show you additional functionality. All of this functionality is explained above.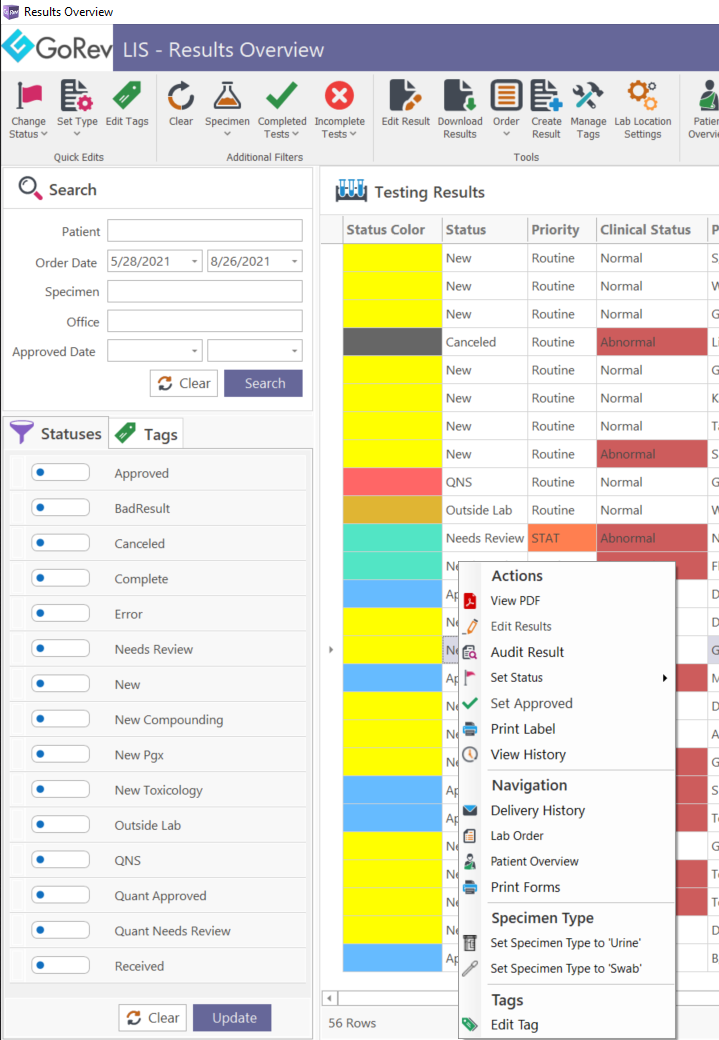 Not all functionality is available for bulk application on multiple specimens. When you right click with more than one specimen highlighted you are presented with the following options.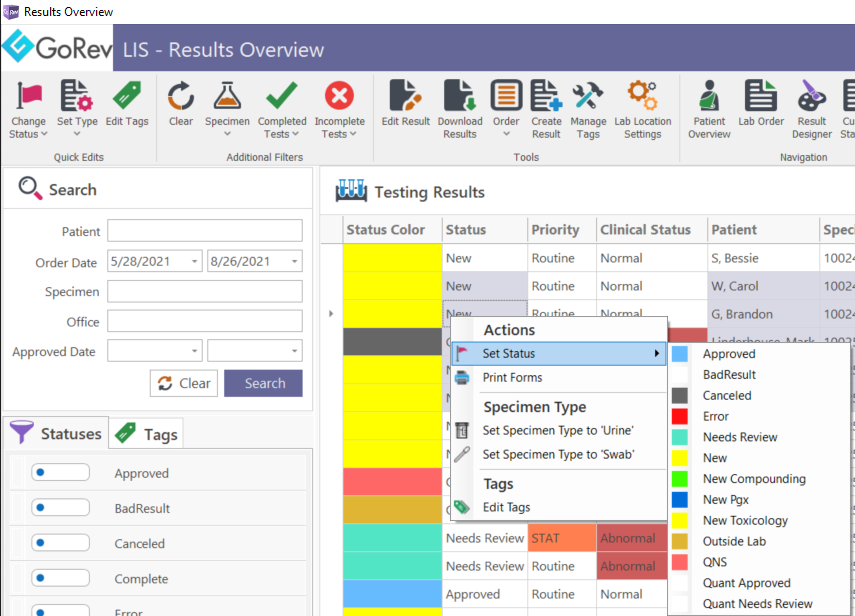 GoRev Support Team
If you have any additional questions or concerns regarding this tutorial, please contact the GoRev Support Team by phone at (317) 794-3900 or by email at ask@gorev.com
Note: Always submit an IT Support Ticket detailing the problem that you are experiencing with this portion of GoRev, if possible, as this will give GoRev Support Agents access to information that will help expedite the resolution of your issue. If you are unsure how to submit an IT Support Ticket in GoRev, please see the IT Support Ticket Creation tutorial for assistance.
---